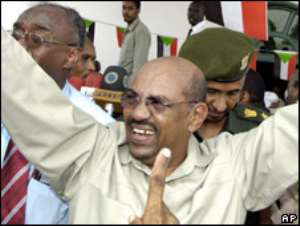 The International Criminal Court has issued an arrest warrant for Sudan's president on charges of war crimes and crimes against humanity in Darfur.
However, the court stopped short of accusing Omar al-Bashir of genocide. He denies the charges.
Thousands of protestors took to the streets of the capital, Khartoum, after the announcement, amid fears of unrest.
The UN estimates some 300,000 people have died and millions been displaced in six years of conflict in Darfur.
The spokeswoman for the court in The Hague, Laurence Blairon, said Mr Bashir was suspected of being criminally responsible for "intentionally directing attacks against an important part of the civilian population of Darfur, Sudan, murdering, exterminating, raping, torturing and forcibly transferring large numbers of civilians and pillaging their property".
She said the violence in Darfur was the result of a common plan organised at the highest level of the Sudanese government, but there was no evidence of genocide.
The court would transmit as soon as possible to the government of Sudan a request for his arrest and surrender, she added.
'Toothless'
Speaking on Tuesday ahead of the expected announcement, Mr Bashir said the tribunal at The Hague could "eat" the arrest warrant.
He said it would "not be worth the ink it is written on" and danced for thousands of cheering supporters who burned an effigy of the ICC chief prosecutor.
Sudan expert Alex de Waal told the BBC the indictment is "pretty toothless" as the ICC does not have a police force and the warrant will be delivered to Sudan's government, which is unlikely to execute it.
There is heavy security in the Sudanese capital, Khartoum, and large pro-Bashir demonstrations are expected.
There is also a strong feeling in the city - albeit seldom openly expressed - in support of an indictment, says the BBC's Peter Martell in Khartoum.
The war crimes court has already issued two arrest warrants - in 2007 - for Sudanese Humanitarian Affairs Minister Ahmed Haroun and the Janjaweed militia leader Ali Abdul Rahman. Sudan has refused to hand them over.
Reacting to the news, a Sudanese presidential adviser dismissed the charges, telling state television that it was part of a "neo-colonialism" plan, Reuters news agency reported.
It is the ICC's first ever warrant issued against a sitting head of state.
ICC prosecutor Luis Moreno-Ocampo had requested that the court issue a warrant for Mr Bashir's arrest in July 2008.