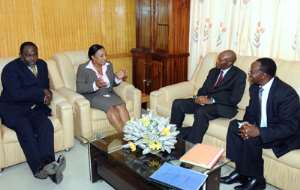 Information Minister, Mrs Okaikoi, (Second left) in a discussion with Mr Kiboro(extreme right), listening attentively are Mr Spio-Gabrah, Director, Commonwealth Communication and a member of the Kenyan delegation

Ghana's Minister for Information, Hon Mrs Sabah Zita Okaikoi, yesterday pledged government's commitment to provide support to the media to strengthen the industry as the fourth realm of the state.
The Minister made this point when a four-member delegation from the Nation Media Group Limited based in Nairobi, Kenya led by Mr Wilfred D. Kiboro, paid a courtesy call on her at her office in Accra.
In a discourse, Mrs Zita Okaikoi observed that the media, being the fourth realm of the state needs to be well resourced. Adding that, she is consulting with the Ghana Media Commission and the Ghana Journalists' Association to update her outfit on the needs and wants of the media.
Mrs Okaikoi expressed her appreciation to her guests and assured them of a friendly relationship.
The head of the delegation, Mr Wilfred D. Kiboro said, their organisation is ready to employ 68 percent of human resource in Ghana and bring in expatriates to help raise the bar of journalism and to also operate with the people to give them intensive exposure.
The delegation expressed their interest to explore possible avenues of expanding their works to Ghana and to seek information on investment potentials and how the media landscape operates.
He added that there is a big strategic decision to establish the media well in Ghana. For this reason, potential investors are needed to raise the standard of professionalism as far as the media is concerned, he stated.
The Director of Commonwealth Communication in London, Mr Ekow Spio-Gabrah, assured the delegation that where the rule of law is at its peak investment in that environment has no impediment. Therefore, Ghana will be the best place for investment.
He also congratulated the Minister on her appointment and promised to assist her when the need arises.
 Click here to view photos