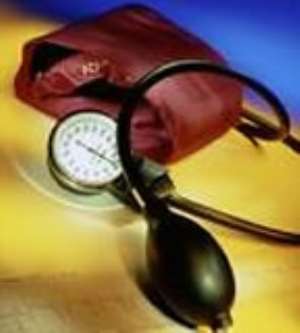 Professor N.O. Nartey, Chief Executive Officer of the Korle-Bu Teaching Hospital (KBTH), has accused some National Health Insurance Scheme officials of deliberate delay in paying government hospitals their claims because of their inability to pay bribes.
Prof. Nartey said claims submitted by private health facilities to the scheme were, however, paid with dispatch.
He quoted from a letter from the Tema Central Medical Stores which has threatened that if by the end of this month the hospital's outstanding claims of GH¢ 1,702,438 (¢ 17 billion) was not paid, supplies of drugs to the hospital would be stopped.
"We can no longer offer credit under the NHIS," Prof. Nartey said on Monday when he addressed the 2008 Annual Performance Review meeting of the hospital and stated that although the NHIS was a laudable project, the delays in reimbursement were affecting the operations of most hospitals.
Prof. Nartey said records at the KBTH had shown a steady rise of card-bearing members accessing the services of the hospital, adding that the 15,000 card-bearers under the NHIS in 2006 rose to 64,000 in 2007, and further to 132,934 in 2008.
He said 18,033 women delivered under the Free Maternal Delivery Policy of the previous government.
Touching on the spate of road accidents in the country, he said when the roads were bad and full of potholes, there were fewer accidents.
He said the 3,410 road traffic accident cases reported at the hospital's Accident Centre in 2007 went up by 691 to 4,101 in 2008 and added that 323,752 out-patient cases were recorded in 2008 as against 277,292 in 2007.
The KBTH, he said, was still grappling with congestion at the Surgical Medical Emergency Unit (SME) where non-trauma cases were seen, stating that in 2007, a total of 7,616 cases were admitted to the unit and that increased to 9,801 in 2008.
Prof Nartey said for the first time in the country, Korle-Bu teamed up with doctors from the United Kingdom to undertake kidney transplant on three patients, who are doing well and added that plans were underway to perform more kidney transplants in May.
He said KBTH has also embarked on trachytherapy (an advanced method of treating prostrate cancer), which he explained had minimal post-operative complications and a higher success rate.
Prof Nartey also hinted that in future end-of-year review meetings, departments or units that performed creditably would be rewarded while nonperforming ones would be penalised.
The Central Medical Stores serves as the ~rug warehouse for the MOH and supplies essential World Health Organisation approved drugs such as paracetomol, anti-malaria drugs and amoxicillin capsules to the 10 regional health facilities and two teaching hospitals.