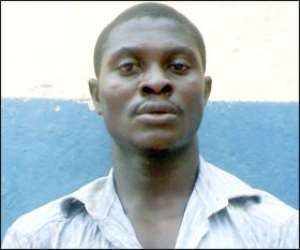 Eric Osei Eric Osei alias Kwame Osei, the driver's mate who had three bouts of sex with a nursing mother, Adiza Ibrahim, who died soon after, has appeared before an Nkawkaw court on Monday and was remanded into custody while investigations continue.
It will be recalled that Adiza, the 25-year-old mother of a six-month-old baby, died while having a romping sex act with the accused behind a building, near the Nkawkaw lorry park.
Her lifeless body has been deposited at the Kwahu Government Hospital at Atibie for autopsy, while a source close to Adiza's family revealed that her six-month old baby lay sick at the Holy Family Hospital, Nkawkaw at the time of the incident.
The acting Nkawkaw Divisional Commander, Police Superintendent Thomas Osei, told the media that the suspect, Kwame Osei, a native of Antoapomaa in the Afram Plains, arrived at Nkawkaw at about 8:00pm last Tuesday with three others in a truck loaded with foodstuff from the Afram Plains. They spent the night in the town waiting to proceed to Akyem Oda the next day.
However according to Supt. Osei, at about 9:00pm, the suspect met Adiza and proposed to have sex with her, which she readily agreed to do.
He said on a mutual agreement, the suspect took Adiza to a nearby drinking spot and bought her a bottle of Malta Guinness whilst he had three tots of Castle Bridge gin.
The Police Commander said the two later went behind a building near the lorry park to have sex.
He said the deceased placed her cloth on the floor and they had three rounds of sex during which Adiza started vomiting and later became unconscious.
The suspect became frightened and left the scene to his truck, but later returned to see the woman lying dead.
Supt. Osei said a barber, whose shop was near the scene, came out to meet the suspect who again took to his heels.
The barber chased him up to the lorry park where he informed other drivers and their assistants about the woman's death.
The suspect was later arrested and handed over to a police patrol team.