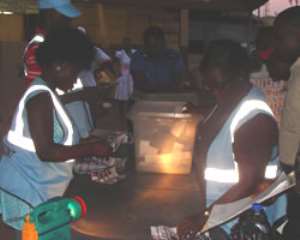 As a reporter, I am subject to all manner of hyperbole from corporate executives wishing to put their companies in the best possible light. Which is why I figuratively rolled my eyes when Gerard Kleisterlee, the chairman of the Dutch company, Philips, told me last summer that their work in LED lighting would "change the world."
Lower power consumption, longer life, yes. But change the world in the grand sense? Please.
Based on a project now being introduced in Ghana, Mr. Kleisterlee may be right.
Philips has partnered with KITE, a not-for-profit Ghanaian organization, to bring artificial light to villages that have no electricity.
According to Harriette Amissah-Arthur, KITE's director, only 19 percent of rural areas have electricity. The rest use foul-smelling kerosene lamps to light their huts, which pollute, provide little light and are major fire hazards. In addition, the low light levels makes it difficult to see scorpions and snakes that make their way into people's homes at night.
As in any non-electrified society, life is defined by the sun; little is accomplished once it sets around 6 p.m. she said on the telephone from her office in Accra. And with children helping out with chores during daytime, it leaves little chance for them to study.
Philips developed three different products for the villagers: a solar-powered lantern, a reading light and a wind-up flashlight. The products work because they all use LEDs; their low power consumption means that the lantern charged during the day will light for seven hours. The flashlight's bulb will for all practical purposes never burn out, and the reading light's lower power consumption dramatically reduces the need to change batteries.
The products are costly — at $50 for the lantern, that represents two months' salary for many people. But Ms. Amissah-Arthur hopes to get tax relief from the government, which could cut the price by 40 percent.
KITE is not the only organization attempting to bring light to Africa. Lighting Africa, a World Bank initiative, is also working to bring low-cost illumination to the continent.
There is no doubt, according to Ms. Amissah-Arthur that the Philips initiative is changing peoples' lives. "People can now do things in the evening," she said. "If you could only see the joy these products bring the villagers. You look at their faces; you have to see it to believe it."
By Eric A. Taub
Source: New York Times