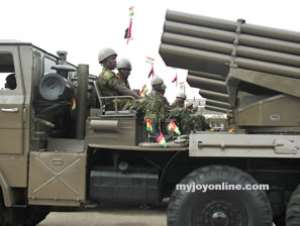 As part of activities to mark the 52nd Independence Anniversary Celebrations, the Ghana Armed Forces will hold an open day in Accra and all military garrisons throughout the country on Monday, 9th March 2009. the programme begins from 8 O'clock in the morning to one O'clock pm.
A statement signed by the Director of Public Relations, colonel E.W.K. Nibo asked the public to note that the open day will be held on Monday 9th March and not on Saturday 7th March 2009 as is being advertised in the media. The statement says, the public is invited to the barracks to interact with the military in its drive to strengthen civil military relations.
Activities lined up for the day include Air experience, sea trip, familiarization visits to Recce Regiment and photo exhibition among others.