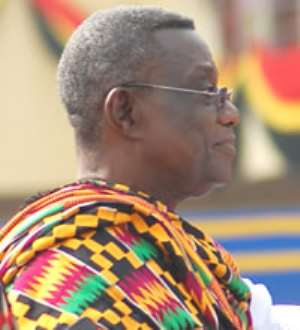 President John Evans Atta Mills has praised the United States of America (USA), for playing a fair role in Ghana's political development and its journey towards the rule of law.
He also commended the USA for maintaining its friendship with Ghana and its behind-the-scenes support for the country's democracy adding that "America has been a friend for many years, old friends are the best".
President Mills said these when a USA delegation led by Mrs Carlyn Yates, USA Deputy Commander for Civil and Military Activities in Africa, to Ghana, made a courtesy call on him, at the Castle, Osu in Accra.
The President reminded all leaders that governance was a continuous affair, and they should not abuse the confidence reposed in them by the people.
He urged leaders to respect the rule of law and human rights, and put the nation's resources to good use.
Mrs Yates commended the successful transition of political power in Ghana and said America watched with keen interest Ghana's political process.
She said the 2008 Election was successful and the change of government unequalled in Africa.
Mrs Yates stressed that the successful change of government from two different political parties at two different times was an indication of the depth of Ghana's democracy.
He congratulated the President on his assumption to the highest political office in Ghana.