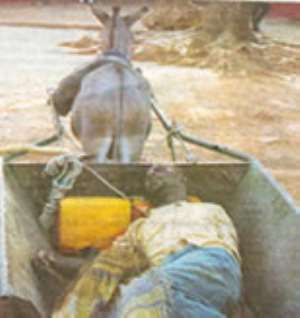 Commercial activity in Bawku has come to a halt, with the streets deserted, as sounds of gunshots continue to echo from all corners of the township on Tuesday.
Workers have also abandoned their offices to remain at home where they feel more secured. An empty space near the community centre, directly opposite the police station, has become a temporary lorry park where vehicles entering the town from Bolgatanga and other parts of the country discharge and load passengers.
Personnel of the Ghana National Fire Service (GNFS) were called in on Tuesday morning when a house near the police station was set ablaze by unidentified persons.
In another instance on Tuesday, a warning shot fired by security personnel on patrol duties was countered by a group of unidentified persons, who fired back tear-gas at the patrol team.
Also, a man believed to be throwing home-made petrol bombs at houses was shot in the thigh by members of a military patrol team on Tuesday morning, and was rushed to the Bolgatanga Government Hospital.
A combined team of armed military and police personnel are patrolling the streets of the town, but they appear to be overwhelmed and may need to be reinforced to be able to contain the situation.
Meanwhile, the Regional Police Commander, Deputy Commissioner of Police (DCP) Alhaji Hamidu Mahama held a meeting in Bawku on Tuesday with military and police officers to consider what strategies to adopt to bring the situation under control