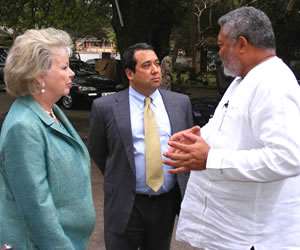 Former President Jerry John Rawlings Monday played host to Ambassador Mary Carlin Yates, Deputy Commander for Civil-Military Activities of the United States Africa Command.
Mrs Yates who is on an African tour said one of her primary reasons for traveling to Ghana was to discuss ways of collaborating with the government on the narcotics menace and called for a unified effort to curb it.
Accompanied by the United States Ambassador to Ghana, Donald Teitelbaum, Mrs Yates congratulated Ghana for a smooth political transition.
"I come to celebrate Ghana again and again. The changes confirm that democracy has taken root," Ambassador Yates said.
Mrs Yates told the meeting which was also attended by Messrs James Victor Gbeho and Kofi Adams and Dr. Ekwow Spio Garbrah, that the new Africa Command which is based in Stuttgart, Germany was established to focus primarily on Africa and is in prime position to ensure better security for various African countries through collaboration between several US state agencies such as the Drugs Enforcement Agency (DEA), the Federal Bureau of Investigations (FBI), the State Department and a host of others.
The Deputy Commander of Africom said she had already held a meeting with new Interior Minister, Mr Cletus Avoka and he "has excellent ideas". She said she saw former President Rawlings as a major political influence hence her courtesy call.
Former President Rawlings said the hopes of Ghanaians had been rekindled by change of government but called on the United States to send the right signals to 'restore the integrity' of the Ghanaian political process.
Rawlings said he was disappointed that the United States sought to offer a blanket endorsement to the previous government as a "fantastic flagship" without any recourse to the evidence of corruption and the drug menace that had bedevilled the country.
The election of Barrack Obama, President Rawlings said, had given hope and prayed that the new administration will restore the image of America which had been battered by what he believes was a rash decision by former President George Walker Bush to go into Iraq.