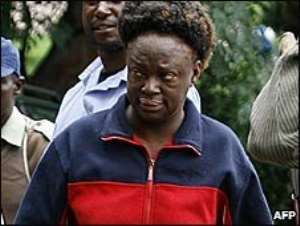 Prominent Zimbabwean human rights activist Jestina Mukoko has been freed after three months in custody.
But Zimbabwean journalist Brian Hungwe told the BBC she remains in hospital, where she had been under police guard.
Ms Mukoko was accused of attempting to recruit people for military training to try to overthrow Robert Mugabe.
New Prime Minister Morgan Tsvangirai had said he would not join a unity government unless Ms Mukoko and other activists were freed from jail.
Several other activists were also reported to have been released.
Ms Mukoko's lawyer, Beatrice Mtetwa, said her client had been ordered to pay $600 in bail, surrender her passport and hand over the deeds to her house as surety, the AFP news agency reports.
"It's good she has been released, but she is still restricted," Ms Mtetwa said.
Ms Mukoko must continue to report to the police and is still facing charges, all of which she denies, her lawyer added.
Torture claim
Ms Mukoko, director of the Zimbabwe Peace Project, was allegedly seized from her house outside Harare on 3 December by 15 armed men.
Her whereabouts were unknown for three weeks, during which time members of lawyers' groups staged protests against her abduction.
In an unusual move, a High Court judge ordered police to search for her and told the national Zimbabwe Broadcasting Corporation to run radio and television appeals for information.
The authorities then confirmed that she had been detained by the security forces.
She was one of 16 people charged with attempting to overthrow Mr Mugabe's government and replace it with one headed by Mr Tsvangirai.
Following a previous court appearance, a judge ordered that she receive medical treatment after she said she had been tortured.
'Obstruction'
In December, Mr Tsvangirai told the BBC that the abductions of activists were "deliberate attempts to decimate, intimidate and harass the opposition".
He was later criticised by some of his supporters for joining the power-sharing government before Ms Mukoko and about 30 other detainees had been freed.
Last week, Mr Tsvangirai said their continuing detention was threatening the power-sharing agreement with Mr Mugabe's Zanu-PF party, and accused the attorney general's office of "wilfully obstructing" their release.
Dozens of activists remain in prison, including senior MDC member Roy Bennett, who faces charges including terrorism and illegal arms possession.
Mr Bennett denies the charges, and the MDC has said his arrest was designed to derail the fledgling unity government.