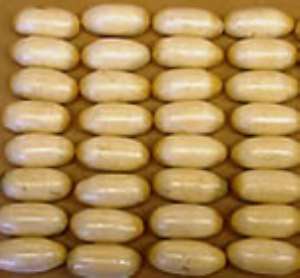 The total value of illegal drugs trafficked through the West African sub-region has risen to more than $2 billion, higher than Ghana's annual gold export, the deputy to the Commander of the United States-Africa Command (AFRICOM), Ambassador Mary Carlin Yates, has stated.
According to her, eight per cent of the total drug seizures in the whole of Europe passed through Ghana, adding that there was the need for seriousness in clamping down on the drug trade to save the country.
Ambassador Yates, who is also a former US Envoy to Ghana, was speaking to the media after her tour of the US Naval ship, USS Nashville, at the home port of the Western Naval Command in Sekondi and some fishing communities within the metropolis.
She expressed shock at the increasing use of the country for drugs and the invasion of the country's territorial waters for other illegal activities.
The ambassador said the United States would put its expertise at the disposal of the government of Ghana and other members within the APS to make the countries stronger for the battle against drugs and other illegal activities.
Mrs Yates said Ghana had beautiful legislations on the drug trade and that what was left was their implementation to ensure that the country was made less attractive to drug barons.
She said AFRICOM co-ordinated a wide range of programmes and activities with the goal of increasing African security capacity which promoted US interests in a more stable global community.
Already, she observed, Ghana and the United States had exceptional co-operation to counter narcotics and the end desire was to disrupt drug trafficking and dismantle the drug network through capacity building of the Ghana Navy and the police.
Mrs Yates said other areas that were in focus were the funding of drug screening equipment, upgrading of facilities at the airport to support the country to counter narcotics, as well as other custom programmes.
She said money laundering was also another problem, saying that the AFRICOM counter office was working closely with the United States Treasury Department and regional governments on programmes to address money laundering and provide legal security of assets owned by known drug-trafficking leaders.
The Commander of the APS, Cindy Thebaud, said the US was committed to the African agenda under the APS.