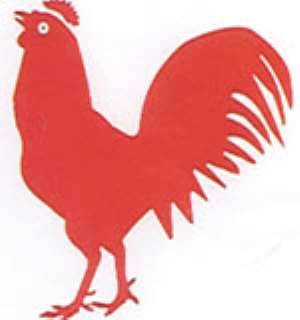 A leading member of the Convention Peoples Party (CPP) and a lecturer at the University of Ghana, Dr Kojo Opoku Aidoo, has said the party currently exists as a mere vehicle for election.
"When it is time for elections, we elect a presidential and assemble parliamentary candidates to contest elections. We are humiliated and then sit down and wait for the next election only to be humiliated again," he stated.
"In the Limann regime, we saw how our party members in leadership positions thwarted party unity which led to the fall of Limann in 1981, again in 2004 we saw also how certain persons in leadership positions decided to vote 'skirt and blouse' by which they campaigned and voted against the CPP's presidential and parliamentary candidates."
Addressing some party supporters at the 33rd Remembrance Day celebration of the overthrow of the first President of Ghana, Dr Kwame Nkrumah, in a coup on February 24, 1966 last week, he said "in the just ended election, we saw the same attitude where some individuals within the party campaigned against CPP's presidential and parliamentary candidates, which resulted in the poor performance of the party in the presidential and parliamentary elections."
He said concerted efforts were needed to rebuild the CPP into a vibrant mass political movement.
He said Dr Nkrumah placed a great deal of emphasis on human development to enhance the capacity of the people to develop themselves.
"Illiteracy eradication, higher education, healthcare enhancement, skill development, management training, among other things, were Nkrumah's democratic development strategy," he added.
Dr Opeku Aidoo said for Osagyefo, development was about the process by which people created and recreated themselves to attain higher levels of civilisation in accordance with their own choices and values.
The chairman for the occasion, Dr Nii Noi Dowouna, said the election of Samia Nkrumah as the only Member of Parliament was a victory for the CPP as this was the first time the CPP had contested an election without any alliance with any political party and won.