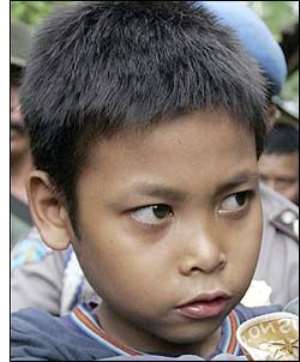 Mohammad Ponari, 9 A BOY of nine is being hailed as a "Messiah" after allegedly performing miracle healings.
Villagers claim Mohammad Ponari has cured raging fevers and debilitating illnesses — and even made a mute boy talk again.
At least 5,000 pilgrims a day now flock to be treated with Mohammad's tonic — made by dipping a "magic stone" in water.
But Muslim leaders in Indonesia want to shut his "clinic" after four people died in a stampede.
The lad is said to have discovered his gift after he was hit by lightning.
He became convinced that an egg-shaped stone he found next to him had healing powers.
Police chief Sutikno told how he saw Mohammad cure the mute boy in Balongsari, East Java, saying: "Ponari shook him and they started fighting, then he began to talk." TheSun