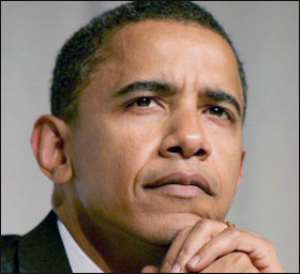 U S President Barack Obama PRESIDENT Barack Obama was sent letters soaked in HIV-infected BLOOD, the FBI has revealed.
Saad Hussein admitted sending one letter addressed to Mr Obama at government offices in Springfield, Illinois. It was opened by staff.
The Ethiopian refugee, 27, said he was "very sick with HIV" and had cut his fingers with a razor.
Hazardous materials teams shut down the offices.
The incident happened before Mr Obama's January 20 inauguration.
Hussein then allegedly sent two more letters containing dried blood — one addressed to Obama chief of staff Rahm Emanuel.
But his brother said he was "an admirer" of Mr Obama and wanted inauguration tickets.
Hussein, being treated for mental illness, was arrested last month and is being held at a secure medical unit.
He has been accused of mailing letters containing HIV-infected blood "with intent to kill or injure". He has not been charged.
A judge ordered tests to see if he is mentally fit to stand trial. TheSun