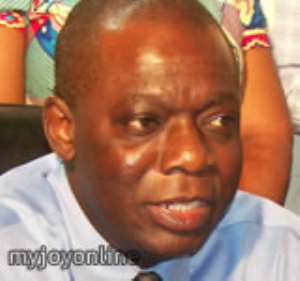 Chairman of Government Executive Assets Committee, Dr Don Arthur, has asked former government officials who still have state vehicles in their possession to return them to avoid embarrassment.
Dr Arthur mentioned former Senior Minister, J.H. Mensah and former Chief of Staff, Kwadwo Mpiani to be among the pack still holding on to some 59 saloon cars and four-wheel drives that belong to the state.
The transfer of assets between the previous and the current government turned sour when the process got punctuated with incidents of persons who paraded as national security operatives forcibly snatching vehicles from former government officials.
Chief Kufuor, son of former President Kufuor and Nana Akufo-Addo, flag-bearer of the New Patriotic Party (NPP) in the 2008 elections, were victims of the seizures which subsequently attracted apologies from the Office of the President.
But with the current turn of events, Dr Arthur said "I am not going to act in a manner that I will become a villain" because too often "in Ghana people who act in good faith end up being chastised."
Frank Agyekum reacts
Meanwhile former Deputy Information Minister Frank Agyekum says he suspects some amount of "insincerity" on the part of government on the matter.
Mr Agyekum accused the government transition team of stalling the transfer process with its instruction that all transactions on state vehicles be halted.
He said so far, former government officials who have registered vehicles in their names did so in accordance with the procedures that were established by the previous Chief of Staff to guide the process.
"Some of our people had begun the process of valuation and they have paid. At that point of payment, the new administration stopped any transaction from taking place as far as transfer of vehicles is concerned," he indicated.
He said although the officials concerned have been pressing the new government to respond to whether the process could be consumated, they have not received any response so far.
Story by Fiifi Koomson