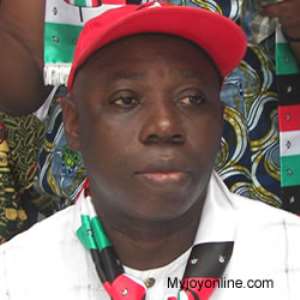 The woes of Alhaji Mohammed Mumuni, Foreign Affairs and Regional Integration Minister, could be deepened if the damning Auditor General's report that implicated him of financial impropriety is laid before parliament, a private legal practitioner has said.
Joe Aboagye Debrah told Joy News on Monday, Alhaji Mumuni must find a way to torpedo the report from being laid before Parliament.
The foreign minister per the report was found guilty of transferring some GH¢ 2,000,000 then as minister of Social Welfare to National Vocation and Technical Training Institute without recourse to Parliament.
A pressure group, the Alliance for Accountable Governance, petitioned Parliament over the report and requested the house not to approve the nomination of Mumuni as Foreign Minister.
But the Majority insisted the report has not been laid before Parliament and could not be reason for disqualifying the then nominee.
The saga took a different twist, after a court dismissed Mumuni's suit against the Daily Guide newspaper for libel over the same report and has reignited calls for the report to be properly laid before Parliament.
The Minority say the court's decision is a vindication of their position to defer Mumuni's vetting until the court had decided on the issue.
They have called for his resignation, failing which the president should sack him and has taken steps to ensure the report is properly laid before the house.
Joe Aboagye Debrah said for now no legal problems can be raised against the minister until the report is finally laid.
"If the report is taken to Parliament, debated and Parliament approves it, that is where his legal problems will begin."
"He would have no choice but to resign," he said.
Mr. Debrah also accused the Minority of hypocrisy and double standards, saying their call for Mumuni's resignation is premature, especially after abiding the jailed former MP, Eric Amoateng, for months until his incarceration.
Story By Nathan Gadugah