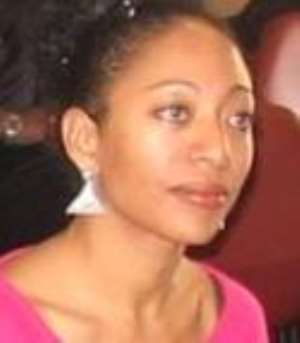 The Member of Parliament for Jomoro, Ms Samia Yaaba Nkrumah has commended President J.E.A Mills for his intention to honour the memory of the late Dr Kwame Nkrumah, the first president of Ghana, with the institution of a founder's day on his birthday, September 21.
The MP, a daughter of the late former president, whose contribution to the ongoing debate to thank the President for his message on the State of the Nation address was delivered with emotions, said it was an established fact that the independence struggle was not began by Dr Nkrumah.
However, she said the world had acknowledged his great work and honoured him as the greatest African of the 20th Century through a BBC survey.
She noted that there had been previous attempts to honour Dr Nkrumah by Ghanaians and mentioned the state funeral organised by the previous administration for the widow of Dr Nkrumah, Fathia, as one of the acknowledgement of the role played by her father in the liberation struggle.
The MP said the plan by President Mills to introduce legislation in Parliament to make Dr Nkrumah's birthday a national holiday starting from this year, which is his 100th birthday anniversary, was very significant.
"Mr Speaker, I call on Ghanaians not to allow the issue to divide us but rather use the institution of the day to unite us for the development of the country", she said and received tremendous "hear, hear" from her colleague MPs from both sides of the House.
However, the MP for Bantama, Mrs. Cecilia Dapaah, who spoke earlier said that although Dr Nkrumah's contribution to the country's independence was quite significant, the contributions of others should also be recognised and called for the institution of Founders' Day and not a Founder's Day.
Contributing to the Debate, the MP for Ketu North, Mr James Klutse Avedzi said it it was good that for the first time an MP's Constituency Development Fund would be established separately from the District Assemblies Common Fund, which had created a wedge between MPs and their district chief executives.
When he caught the eye of the Speaker, the NPP MP for Tano North and former Minister of Food and Agriculture during the NPP regime, Mr Ernerst Akubuor Debrah said the nation was grateful to the President for his promise that the country would only change cause only when it became necessary and urged him to back his words by deeds.
He touched on the food situation in the country and said due to the good policies put in place by the previous administration, Ghana would be the only country south of the Sahara that would be able to meet the Millennium Development Goal (MDGs) requirement of halving poverty by 2015.
The debate on the address is expected to be concluded tomorrow.