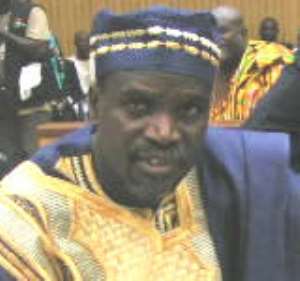 Mr Moses Asaga, the Member of Parliament (MP) for Nabdam in the Upper East region says the Prof. Mills-led National Democratic Congress (NDC) government will start to fulfill its campaign promises in the year 2011.
According to him, Ghanaians should exercise patience for the NDC government since it will fulfill all its promises after the fourth quarter of next year, when the country would have benefited immensely from the oil find.
He said the country was expected to produce 60,000 barrels of oil a day which would earn the country billions of dollars monthly, as was disclosed by Nana Addo Dankwa Akufo-Addo, the defeated New Patriotic Party (NPP) flag bearer during the electioneering campaign last year.
Speaking under the theme "Chemistry, a tool for economic development," at the 10th annual national conference of the Ghana Students Chemical Society, at the Kwame Nkrumah University for Science and Technology (KNUST last Friday, the MP said chemistry contributes to Gross Domestic Product (GDP) growth of the country.
He therefore, advised the students not do look down upon Chemistry as a course and bury the idea that Chemistry students are restricted to teach after graduating, saying chemistry graduates have many job opportunities awaiting them after graduating.
Dr. Osafo S. Acquah, the President of the Ghana Chemical Society (GCS) and lecturer at KNUST, appealed to the government to assist Universities add new courses like petrochemical programmes in respect to the oil discovery, which according to him, would prepare students to help manage the oil industry, rather than contracting foreigners to manage oil.
He also drew the attention of the government to the need to support students by way of scholarships to boost the moral of the students to learn seriously. He said GCS as a society has plans that would see graduate students from the department prepared through practical base, which he believes would help them enter the job market.
He stated that Chemistry is the engine of growth in the Ghanaian economy and asked the government to make adequate security to protect the oil and let it become a blessing to the country.
Professor James Hopkins Ephraim, the vice Chancellor of the Catholic University Co11ege of Ghana, on his part said if Chemistry is well mastered and utilized, it can catalyze the socioeconomic development of the nation.
He also applauded President John Atta Mills for bringing back the Ministry of Science and Technology; and asked him to use the Ministry effectively since it can be the tool of development.