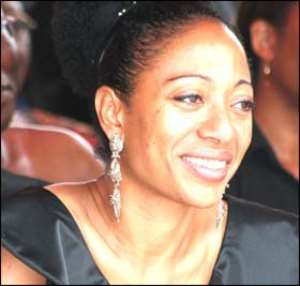 Samia Nkrumah THE DAUGHTER of Ghana's first President, Christiana Samia Yaba Nkrumah, has applauded President J. E. A. Mills' intention to institute a Founder's Day as a national holiday in honour of her father, Osagyefo Dr. Kwame Nkrumah.
The Convention People's Party (CPP) Member of Parliament (MP) for Jomoro in the Western Region, who was contributing to the debate on the President's State of the Nation address in Parliament on Friday, said the Founder's Day should be marked with a sense of unity and not divide the nation.
Acknowledging her father's selfless service to the nation, Samia Nkrumah said for President Mills to promise appropriate legislation to Parliament to honour the first President's memory in a befitting manner is highly commendable.
According to her through the help and guidance of Ghana's first president and other distinguished personalities, Ghana gained independence by March 1957; a struggle which she said had been acknowledged by the whole world and voted on BBC as the Greatest African leader of the millennium.
"We owe it to Ghana and Africa to confer on him this singular honour," she stressed.
On March 6 1957, the Gold Coast became Ghana, the first sub-Saharan country to gain independence from colonial rule, and this inspired a wave of liberation struggles around Africa and the world.
This made Ghana's first president, Dr Kwame Nkrumah, gain international stature, emerging as one of the leaders of the worldwide anti-colonial movement and one of the most influential Pan-Africanists of the 20th century.
The Jomoro MP recalled that there had been previous attempts to honour Ghana's first president in various ways. The most recent, she cited was ex-president Kufuor's presiding over the funeral of Fatia Nkrumah, the First lady of Ghana.
In pursuit of instituting the Founder's Day, Samia Nkrumah called for the inclusion of a science and technology fair and cultural competition to bring together the youth to commemorate the event.
Contributing to the debate, MP for Bantama, Cecelia Abena Dapaah, admitted that even though Dr. Kwame Nkrumah was one of the great sons of Ghana who left a legacy for the nation, she wished other distinguished Ghanaians would be honoured.
Earlier, she applauded the President's pledge to consider a Presidential Transitional Bill for possible Parliamentary enactment, explaining that because of the acrimonious way of handing over power from one government to another, such a Bill when passed would "in 2012 enable National Democratic Congress (NDC) hand over smoothly and peacefully to New Patriotic Party (NPP)."
The MP for Tano North, Ernest Debrah Akobour, who explained the current situation of the agricultural sector, said President Mills only endorsed the previous government's programs and affirmed his administration's commitment to continuing the policies and programmes of the NPP administration.
By Sheilla Sackey &Awudu Mahama