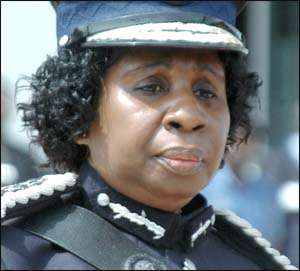 IGP Elizabeth Mills-Robertson THE NUMBER OF police personnel detailed to provide security and orderliness at Bosome Freho in the Ashanti region, one of the newly created districts in the country is woefully inadequate.
Only six policemen are stationed in the young district which has a population of over 70,000 people, mostly farmers.
The insufficient police personnel are supported by about 30 Community Protection Assistants to ensure security in the area but these efforts are far from enough, as hoodlums operate freely.
This shocking situation was made public by the former District Chief Executive Officer of the area, Gabriel Yaw Amoah at a general meeting of the assembly recently.
He indicated that there are only two police stations in a district which has eleven electoral areas and four area councils.
In addition to this, Mr. Amoah stated, the district does not have a single court to adjudicate cases therefore legal cases are sent to other neighbouring districts courts.
These predicaments, the former DCE said, were having adverse effects on the district as unlawful activities such as fighting and threats, especially among the youth abound.
Still highlighting on some of the problems confronting the area, he said the inadequate supply of potable drinking water, was also a constant worry to the new district.
"Statistics from a survey conducted in the area shows that effective water supply coverage on the Bosome Freho District is about 35 percent whilst sanitary coverage is about 18 percent."
Mr. Amoah passionately appealed to the government to immediately come to the aid of the Bosome Freho District by constructing more police stations and courts in the area to promote security and adjudication of justice.
He also appealed to government to help solve the water and sanitary problem engulfing the area, and as well provide more school infrastructure, toilets and accommodation for teachers in the area.
From I.F. Joe Awuah Jnr., Atiwa, Ashanti