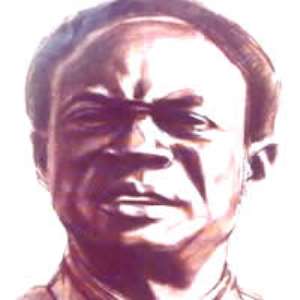 I read Mr. Kwabena Mprah's opinion piece titled "Founder's Day – Greatest Honor in Nkrumah's Memory" (Myjoyonline.com 2/27/09) with utter contempt, as I have invariably done with the media fare of many an Nkrumah fanatic. To be certain, the Cii-Pii-Pii-ites would have a far better chance in getting the hulking and patently otiose African Union (AU) to set aside a day marked up the calendar as "Nkrumah's Day" than having their maliciously devious attempt to summarily derail Ghana's onward march into a civilized democratic culture stultified and, in effect, made a laughing stock around the globe.
After all, with Libyan strongman Col. Muammar El-Qaddafy at the helm of the African Union, what prevents these CPP cynics from successfully pleading the Show Boy's cause? Needless to say, those who never met Mr. Kwame Nkrumah have the latter's spitting image in the Libyan pseudo-chieftain to behold. In a palpable sense, the morbid accession of Col. Qaddafy into the chairmanship of the AU is, arguably, the greatest achievement of the extrovert Show Boy on the African continent. One can almost see the "visionary" Nkroful native do a vigorous ballroom dance with his recently deceased daughter-of-a-wife in their lavish mausoleum.
I was also not the least bit surprised that Mr. Mprah, Jr., author of the article titled "Founder's Day – Greatest Honor in Nkrumah's Memory," would heretically and sacrilegiously describe Dr. Danquah, the real architect of Ghana (See Joe Appiah's "The Man J. B. Danquah") and the man whose sterling scholarship was solely responsible for the name of the erstwhile Gold Coast being changed to Ghana at independence, as "a man believed to have betrayed the independence struggle by accepting handouts from the Central Intelligence Agency (CIA), to help overthrow the [Life-President] Osagyefo."
Of course, once you set up such nescient – or criminally ignorant – discursive straw man, it becomes easy and readily acceptable to demonize one's ideological nemesis. The Sisyphean problem for Mr. Mprah, though, is that not even "Dr." [to speak much less about poseurs and scam-artists] Kwame Nkrumah could comfortably and candidly rank himself among the standout company of the Doyen of Gold Coast and Ghanaian politics. And so what is all this nonsense about instituting a Founder's Day in exclusive celebration of Ghana's pioneering tyrant? Is it also in shameless celebration of our cretinous sense of historical achievements?
In any case, he would have ridden on a better horse, a thoroughbred, to be exact, if Mr. Mprah had also mustered the honesty and courage to explain to his readers precisely how it came about that the hermetically autarkic President Nkrumah was conferred with the Soviet equivalent of the Nobel Prize, THE LENIN PRIZE, in 1961, when the CPP was at its most corrupt height? But even more significantly, how the Show Boy had privately confessed to Mr. J. W. K. Harlley, then-Prisons Director, later Police Commissioner, that the former was hell-bent on imminently "doing a MacBeth number" on Dr. Danquah, primarily because the Doyen of Gold Coast and Ghanaian politics made the Show Boy feel woefully inadequate on all fronts of national endeavor (See the Asafu-Adjei Commission's Inquest into the Death of Dr. J. B. Danquah at the Nsawam Medium-Security Prison).
By the way, exactly how did the CPP patriarch come by the funding – or capital resource – used in the construction of the Akosombo Dam, perhaps, the greatest vainglorious shrine to the Kankan-Nyame Supplicant's ego, in the imagination of the Verandah Boys, but via a "CIA handout" originally and serendipitously negotiated by Komla Agebli Gbedemah? In other words, before fetid loudmouths like Mr. Mprah presume to strike an arsonist's match-stick against their political opponents, they had better ensure that they, themselves, are not resident in log cabins!
I would not here hold brief for Mr. Otchere-Dark; I am quite certain that the director of the Danquah Institute is more than articulate enough to fire off a rejoinder to Mr. Mprah with dispatch, should he so decide. Nonetheless, suffice it to observe, if only for the public record, that the preexistence of a Busia Institute may likely have motivated Mr. Otchere-Darko's decision to change the original name of the Danquah-Busia Institute. Thus to invoke such purely nominal institutional re-designation as an occasion for obloquy, as well as a viable argument against Mr. Otchere-Darko's call for an inclusive Founder's Day holiday observation, is more telling of the intellectual levity of the critic than anybody else.
I was also greatly amused, in a decidedly contemptuous manner, to read the following crock of turd, as New Yorkers are wont to say, from Mr. Mprah: "In fact, Dr. Martin Luther King, Jr., was once quoted as saying that if he could achieve half of what Dr. [sic] Nkrumah had achieved, he would feel fulfilled as a freedom fighter." You see, in Ghana, a cynical scumbag like Mr. Kwabena Mprah, Jr., could easily get away with such hallucinatory swill, because only an insignificantly few readers are likely to bother to square the preceding up with known and canonized historical facts.
Now, let him get the following into his clinical numbskull: Mr. Mprah, I have read and written extensively about most of the King Literature, and was even once, while a Ford Foundation Undergraduate Fellow at the City College of New York, short-listed among the ranks of potential editorial assistants for the King Papers Project by Stanford University; and nowhere, absolutely nowhere, does the kind of guff that you are retailing appears!
In any case, it was not for any woeful lack of leadership appreciation that the United States Congress decided to scrap Presidents George Washington and Abraham Lincoln's several birthday holiday anniversaries in order to institute a weeklong memorial celebration for all the now-44 occupants of the landmark White House. And we all know that among the things that Ghanaians do best is to indiscriminately copycat the traditions of other nationalities, particularly the West. After all, was not Nkrumah's "Convention" People's Party (CPP), a veritable copycat of Dr. Danquah's United Gold Coast Convention (UGCC)? And so what is uniquely new here? And just how did the nuisance likes of Mr.Mprah come by the very concept of a Founder's Day? Indeed, the critic would do himself and his readers a lot of good by reading Prof. Kweku Folson's "Encounter" (1969) journal article – a book review, in fact – on the Nkrumaist myth of ex-nihilo CPP "pioneerism."
And, by the way, has Mr. Mprah figured out exactly how much it would cost Ghanaian taxpayers and their government to institute a "Founder's Day" for the exclusive memory of Mr. Nkrumah? Indeed, contrary to what the critic would have his readers believe, the New Patriotic Party (NPP) does a far better job in honoring legendary Ghanaian leaders than any other party, except when President Kufuor, for reasons best known to himself, curiously refused to have the University of Ghana renamed after the man who made its 1948 founding historic. Regarding the progressive outlook of the NPP on the canonization of deserving Ghanaian leaders, simply take a peek at our most recent currency notes.
Of course, I fully appreciate where Mr. Mprah is coming from, to wit, a flagrant return of Ghanaians to those CPP days when only President Nkrumah's name and image appeared on stamps, cedi notes and coins, schools and public offices. After all, until Mr. Kufuor appeared on the Ghanaian political landscape who was singularly celebrated on March 6, but Kwame Nkrumah? And yet the likes of Mr. Mprah would have the rest of the world believe that Nkrumah is the most under-appreciated of all Ghanaian and African leaders!
Did I hear somebody say: "Dambanza!"?
*Kwame Okoampa-Ahoofe, Jr., Ph.D., is Associate Professor of English, Journalism and Creative Writing at Nassau Community College of the State University of New York, Garden City. His latest and 20th published book is titled "Crosscurrents" (Atumpan Publications/lulu.com, 2009). E-mail: [email protected]