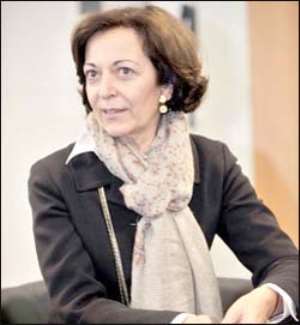 Mrs Anne-Marie Idrac MRS ANNE MARIE Idrac, French Minister of State to the Minister for the Economy, Industry and Employment, with responsibility for Foreign Trade, has arrived in Ghana for a two-day visit.
France is particularly interested in Ghana which is seen as a model of democracy in Africa. The economic ties between the two countries are growing and the Minister wishes to strengthen them even further.
Idrac will meet the President, John Mills and the Minister of Finance and Economic planning, Dr Kwabena Dufuor. She will be the first member of the Sarkozy government to interact with the newly elected Head of State.
President Sarkozy sent Mills a congratulatory letter stating, "Your victory is a victory for democracy, and I feel convinced that you will be able to accompany your country towards new progress, in the respect for institutions and liberties which now characterizes it in the eyes of the international community as a whole."
Idrac will also meet with the Minister of Trade and Industry, Mrs. Hanna Tetteh, to introduce an important delegation of French businessmen, looking for investments in the country to her.
This visit shows the political commitment of the French President to have a relationship between France and Africa which is based on equality, fairness and respect, as stated in his Speech delivered in South Africa a year ago. The Deputy Director of Agence Française de Developpement (AFD), Mr Debrat, is also a member of this delegation. AFD is currently supporting Ghana with ongoing projects totaling over 190 millions Euros and 33 millions Euros in disbursements.