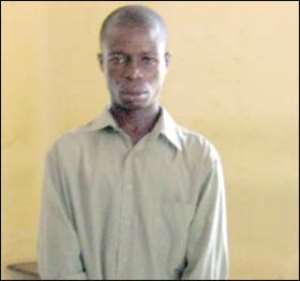 Kwame Sarfo An Obuasi Circuit Court on Thursday ordered Kwame Sarfo, a farmer resident at Amanchem village near Obuasi, to pay a fine of GH¢300 or in default serve a six-month jail-term in hard labour for stealing a goat belonging to one Akosua Brago.
He pleaded guilty to the charge of stealing contrary to section 124(1) of Act 29/60 as amended by section 4NLCD. 398/69, and the Presiding Judge, Gilbert Ayisi Addo convicted him on his own plea.
Police prosecutor, Inspector G. N. Amates told the court that on February 25, 2009 at about 12 noon, the accused was spotted dragging a black she-goat on the outskirts of Aboagyekrom, a suburb of Obuasi.
Another farmer, who is the complainant in the case, was also walking along the same route.
Upon seeing him, Sarfo bolted with the animal, prosecution narrated further.
He continued that the complainant raised an alarm, which attracted some residents who gave Sarfo a chase and subsequently apprehended him.   
Gasping for breath, Sarfo claimed that the goat belonged to his sister, one Akosua Brago resident at Amanchem, and that he was taking it to Boete, another Obuasi suburb where he resides to rear it.
When asked why he took to his heels upon seeing the complainant, the goat thief said he thought the mob would beat him up since he was alone, according to Inspector Amates.
The prosecution said the complainant and other fellow residents then followed Sarfo to Boete but after combing through the community for close to 30 minutes, the thief could not identify his own house.  
He was later handed over to the police together with the goat for further investigations. In his caution statement, the convicted criminal admitted having stolen the goat from the said Akosua Brago, who is presently living in Kumasi.
From Ernest Kofi Adu, Obuasi