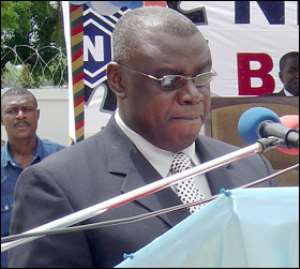 Daniel Charles Gyimah AN ACCRA Fast Track High Court trying Daniel Charles Gyimah, Managing Director of the National Investment Bank (NIB), for willfully causing financial loss to the state on Friday rejected his request to waive an aspect of his bail terms.
His counsel, Colonel Alex Johnson (rtd) and Alex Osei-Wusu, referring to an order of the court that the accused should report to the Bureau of National Investigations (BNI) once every week, prayed the court to vary it.
According to the defence team, Gyimah had been cooperating with security personnel.
The court, however, said it was premature to vary the bail terms of the accused, saying it was in his own interest that he should be reporting to the security personnel since investigations were continuing.
The prosecutor, Deputy Superintendent of Police (DSP) P.K. Frimpong informed the court that investigations were ongoing.
The matter was therefore adjourned to March 20.
Gyimah has pleaded not guilty to willfully causing financial loss of $60 million to the state and has been admitted to bail in the sum of GH¢500,000 with four sureties, one to be justified.
 The court further ordered him to report once every week to the Police.
Gyimah found it difficult to execute his bail conditions initially because he needed a landed property to guarantee his bail and hence spent some days in custody.
After Friday's sitting, Gyimah exchanged pleasantries with relations and friends who had come to sympathize with him.  
Gyimah is alleged to have used the bank as a guarantor and issued 30 promissory notes valued at $60 million in May 2007 to Eland International (Ghana) Limited. The notes were to mature on January 29 this year.
This transaction was allegedly conducted without the bank's Board of Directors' consent.
The prosecution said during that period, Eland contacted Iroko Security Company Limited and discounted the $60 million promissory notes of $45 million.
The prosecutor said after January 29 this year, there was no sign of payment to Iroko hence a swift message was sent to Gyimah to confirm payment.
Immediately Gyimah received the message, he ordered the International Banking Section of NIB to confirm payment and that was done.
Meanwhile, the prosecution said most of the major documents covering the transaction between NIB and Eland could not be traced in the bank's records which raised suspicion.
Gyimah, the prosecution said, admitted in a statement that he guaranteed the money on behalf of the bank but made a mistake by not contacting the bank's Board of Directors.
GNA