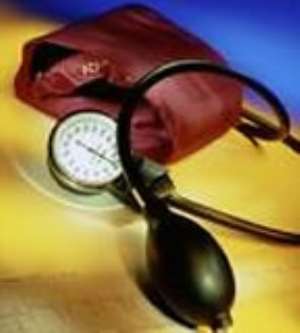 A doctor at the Korle-Bu Cardiothoracic Centre has cautioned women with abnormal heart beat and men with risk factors for stroke, diabetes and other diseases against rampant sexual encounters.
Dr. Alfred Doku warned of sudden deaths if such people abuse the art of sex.
Adiza Ibrahim, 25, a nursing mother was said to have collapsed and died during a sexual encounter with a driver's mate last Tuesday.
Her death follows news of a chief also alleged to have died during yet another sexual escapade on Valentine's Day with his concubine at a hotel.
Even though it is unusual for women to die during sexual intercourse, Dr. Doku told Joy News, Adiza's death may be attributed to an underlying heart disease or abnormal heartbeat which she was not aware of.
It is difficult for the man to have noticed the unusual heartbeat he said, adding, such problems could only be diagnosed in the hospital.
On his advice for the sexually active in the society, Dr. Doku said "mostly women are safe because they are the passive partners when it comes to sex. For men it will be advised if you have a risk factor for stroke for heart attack, diabetes, obesity, high cholesterol, smoking - you are at risk of having sudden death."
He further called for stress test in a hospital before engaging in active sex.
Story by Nathan Gadugah