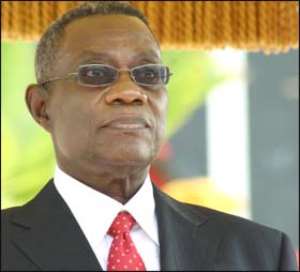 President John Evans Atta Mills THE UK and Ireland Branch of the New Patriotic Party (NPP) has challenged the John Evans Atta Mills–led government to stop the political vendetta it has embarked against its political opponents, saying the negative human rights image being created is casting a slur on the country's democratic credentials.
It also took a swipe at some of the actions of former President Jerry John Rawlings and expressed dismay at the loud silence of the sitting president over them.
The NPP noted that President Mills lacked presence in his own government, and described the state of the nation as being in an 'auto-pilot mode in a stormy political weather.'
According to a press release signed by the chairman, Hayford Atta-Krufi, the president, after swearing to be 'President for all', failed to keep his campaign promises and has rather looked on helplessly as his National Democratic Congress (NDC) continued to traumatize, brutalize and evict NPP members across the country.
"President Mills' NDC administration promised Ghanaians a change for the better with the reduction of petroleum price to GH¢2, free school uniforms for children, one-time premium payment for NHIS and money in our pockets.
Instead what we see within its first 100 days is a nightmare of the political vendetta, assault on any perceived political opponents, car snatching, arrests, death threats and detentions of people without recourse to due process of law," it said.
The release catalogued various degrees of atrocities meted out to NPP members in such places as Agbogbloshie, Nima, Fadama, Ashaiman, Kumasi and some parts of the Volta Region.
It remarked that by sitting aloof in the midst of all these attacks, and meddling in chieftaincy matters, President Mills was yet to demonstrate any true leadership.
"The NPP/NDC clashes in Tamale have their roots in the tragic death of Ya-Na some eight years ago. President Mills has already gone to put a foot in this already inflammatory situation by mentioning in his maiden sessional address to parliament that he would re-open the investigation, in a way, that cannot be helpful to the peace process."
It further named some of the prominent party people, whose rights had been trampled upon recently, including Nana Addo Dankwa Akuffo-Addo, Dr. Bawumia, Mr. Dan Gyimah and Madam Grace Omaboe.
Touching on ex-Rawlings, the party said: "We are by no means suggesting to president Mills who he should work with, especially in the National Security set up, but we abhor the insinuating role of former President Rawlings over the replacement of the CDS and IGP, as well as his uncontrolled role in entering national security premises like he recently did at the Kotoka International Airport."
It therefore asked President Mills to show leadership by ensuring that every Ghanaian is safe and free in the country.
By Bennett Akuaku