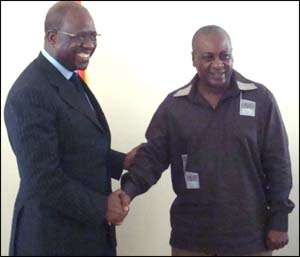 Mr. Mahama welcoming Mr. Toure United Nations Agencies in Ghana have affirmed their support for the current democratic dispensation, saying they are ready to support the country in diverse ways to achieve its developmental goals.
Dauda Toure, UN Representative Coordinator and the Resident Representative of the United Nations Development Programme (UNDP), gave the assurance at the Osu Castle when he called on Vice President John Mahama.
Mr. Toure said the UN Agencies were ready to work with the new government to ensure good governance, bearing in mind that 'no interference' has always been its guiding principle.
He mentioned some areas where the UN had been resourceful to Ghana as supporting the Electoral Commission and the National Peace Council to carry out their mandates.
Other institutions of good governance that had benefited from the UN agencies, Mr. Toure said, included the Commission on Human Rights and Administrative Justice (CHRAJ) and the Parliament of Ghana.
He announced that institutions that had benefitted from UN agencies and had worked to their expectations would be given further support in their fields of endeavour.
Mr. Toure recounted the significant role the UN Agencies played when the northern part of Ghana was hit by floods.
He said the lesson learnt from such disasters should be considered a priority to avoid a re-occurrence.
Mr. Mahama commended the UN Agencies for their support for the various sectors of the country, mentioning in particular the HIV/AIDS control support to the Ghana Aids Commission.
He said to effectively fight against the disease, there was the need for a strong leadership role, and therefore indicated government's commitment in that regard.
One measure the government was taking to fight the disease, the Vice President said, was to adequately resource the Ghana Aids Commission to effectively carry out its mandate.
On the conflict in the north, Mr. Mahama mentioned that the appropriate agencies were on top of the matter.
He called for the need for such agencies to deal drastically with any offender irrespective of his or her political leaning, asking them to  separate criminality from politics.
He used the occasion to again appeal to the feuding parties in the northern conflict to give peace a chance and allow goodwill to prevail.
Also at the Castle was the Angolan Ambassador to Ghana, Jose Guerreiro Alves Primo, who discussed bilateral cooperation with Ghana.
He also talked about the need to reconvene the Joint Ghana-Angola Cooperation for the mutual benefit of all.
The Vice President called for Angola make some expertise in the oil industry available to Ghana by training some of the local people from the Ghanaian oil region.
He recounted the role the State Construction Corporation (SCC) played in the infrastructural development of Angola, and suggested the need for such institutions to be reorganized.
Vice President Mahama lamented the liquidation of the SCC which used to be the pride of the nation.
By Wisdom Peter Awuku