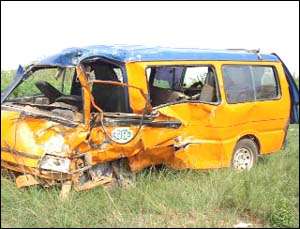 One of the mangled vehicle A Good Samaritan who tried rescuing accident victims was sadly hit and killed instantly by an oncoming 207 Benz bus driving at top speed at Saboa near Offinso in the Ashanti region on Tuesday.
Salifu Abanga, 37, met his untimely death whilst giving a helping hand to victims of a near-gory accident involving an Urvan bus and a Kia Buster vehicle which had collided head- on.  
Earlier reports that 20 people had lost their lives in the accident turned out to be a hoax.
Police report indicated that only one death and 19 injuries were recorded in the accident which occurred around 7:30 pm, explaining that no death was recorded in the earlier collision between the Urvan and Kia Buster truck.
Two of the victims whose injuries were life-threatening had been referred to the Komfo Anokye Teaching Hospital in Kumasi for treatment whilst the remaining 17 were on admission at the Saint Patrick Hospital at Offinso.
The mortal remains of the deceased had also been deposited at the Saint Patrick Hospital awaiting autopsy.
Briefing DAILY GUIDE in his office about what led to the accident, Chief Inspector Collins Alex Ntiamoah of the Offinso Divisional MTTU said the Urvan mini bus with registration number AS 2695 T was fully laden with people heading towards Abofuor from Kumasi.
The Kia Buster vehicle also with registration number AS 5476 Y which was loaded with foodstuffs with their owners on board the vehicle was from Abofuor to Kumasi, he added.
On reaching Saboa, the Police Capo noted that the driver of the Urvan bus tried ignoring a speed ramp constructed in the road and as a result lost control of the steering. The car veered off its lane, colliding head-on with the oncoming Kia Buster vehicle.
The impact of the clash was so deafening that it drew more people including Salifu Abanga to the accident scene who tried to rescue the victims from the mangled cars.
Chief Inspector Ntiamoah disclosed that in the course of giving a helping hand to the victims, a Benz bus with registration number AS 5783 which was driving at top speed from Abofuor ran into the rescuers, killing Abanga and injuring five more people in the process.
Kwaku Appiah, the driver of the Benz bus, had been apprehended by the Police, helping in investigations, the police guru intimated.
From I.F. Joe Awuah Jnr., Offinso, Ashanti