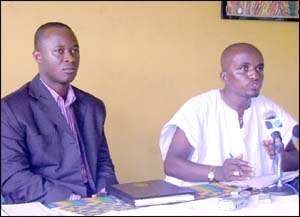 DS SRC The National Union of Ghana Students (NUGS) has threatened to go on a demonstration in the wake of an alleged unilateral action by the Acting Vice Chancellor of the University for Development Studies (UDS), Prof. Kaku Sagari Nokoe, to suspend a constitutionally elected students' leader and the subsequent closure of the school's Wa campus.
"If by Monday, March 2, we hear nothing, the students of Ghana shall hit the streets and the authorities of UDS shall take full responsibility for every action," NUGS, backed by its National Executive Committee (NEC), has stated.
The student involved in the dismissal is Naab S.A. Alphonse, Students Representative Council (SRC) President.
The NUGS President, Ishmael Tweneboa-Kodua made the statement at a crisis meeting held yesterday in Accra.
Reasons for what is being described as the unwarranted suspension were that Alphonse granted unauthorized radio interviews which tended to tarnish the image of UDS and disrupted academic programmes during the SRC week, among others.
A copy of the suspension letter signed and issued by Acting VC, Prof. Nokoe read, "Misconduct: Mr. Naab S.A. Alphonse, I have received reports that allege and or disclose misconduct on your part in your capacity as Student Representative Council President".
The exact offences, according to the letter, included "use of abusive language, granting of press interviews at which "you tarnished the image of the University, a newspaper report, unauthorized radio interviews, disruption of academic programmes during SRC week and abuse of office".
The letter added that "as the Chief Disciplinary Officer, I have set up a disciplinary committee to investigate these allegations and advise me accordingly. You will, as required, be invited to the hearings.
"Consequently, I write to suspend you from your position as President of SRC, Wa campus and Central SRC until further notice".
At the press conference, Alphonse reacted to these assertions by the school's authorities.
Meanwhile, Tweneboa-Kodua has called on all democratic forces to speak loudly against what is currently pertaining in UDS, calling on them to join "us in legitimate actions on the matter. Justice cannot be sacrificed to satisfy the whims and caprices of a single individual".  
He hinted that the other campuses, Navrongo and Nyankpala, were girding their loins to stage a massive protest if the Ag. Vice Chancellor failed to revoke the suspension of Alphonse by today, February 27.
"We will exercise our constitutional mandate to resist any attempt by a person or group of persons who seek to prevent students of UDS from freely exercising their political will."
The NUGS boss explained further that "Articles 3 and 4 of the 1992 Constitution enjoins all to defend it and resist any attempt to suspend it or a part of it. The Ag. VC seeks to suppress lawful political activity".
Tweneboa-Kodua stressed that "we have exhibited unparalleled patience, maturity, resistance and goodwill. The usurpation of the sovereignty of the students must stop.
The Dean of Students and Ag. VC are doing this to win public sympathy and throw dust into the eyes of the public.
We only try to present genuine issues presented to us by thousands of students who have paid their fees."  
A student activist, Wonder Madilo, explained to DAILY GUIDE that when school authorities take unilateral decisions, problems such as this occur.
He asked school authorities to bear in mind that if there are no students, there cannot be a university and vice versa.
For him, authorities should see students as partners rather than enemies, and advocated a system where schools set up conflict management committees which would look into such uprisings in order to minimize authoritativeness on the part of school heads.
Students, he advised, must also learn to do what is right and conform to rules and regulations.
By Nathaniel Y. Yankson