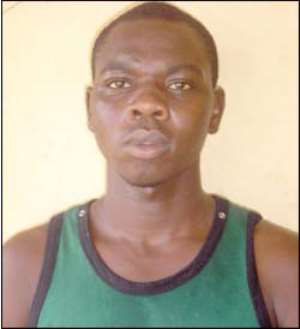 Derrick Quaye A 19-year-old boy, Derrick Quaye, has been arrested for robbery by the Police in Dansoman, Accra.
Quaye, in the company of two others, trailed one Innocentia Kponu from the Kaldorf Nightclub at Tesano where she had gone with her friends to entertain themselves on February 20, 2009.
At about 12am the next day, she decided to leave. Whilst driving her boyfriend's Golf 3 car registered GT 6822 X, she detected that a taxi was trailing her and thus decided to drive in the middle of the road.
On reaching Kokompe, she noticed that the taxi had closed in on her so she took a turn towards Dansoman.
When she got to Akukorphoto, she slowed down to cross a speed ramp but the taxi crossed her, forcing her to stop abruptly.
Three persons armed with a gun and cutlasses, attacked her and took away her three mobile phones, an ipod, and a cash of GH¢1500.00.
Whilst the robbers were leaving, her screams attracted a police patrol team on duty to the scene.
The police managed to arrest the suspect who was armed with a locally-manufactured pistol and a cutlass.
However, his accomplices who were in a waiting cab escaped.
The Police have indicated that the suspect would be arraigned after investigations.
Rocklyn Antonio