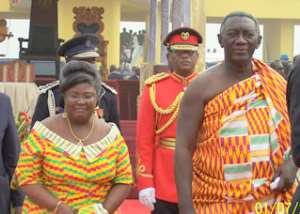 In light of this global financial crisis, Ghanaians and indeed politicians continue to wear imported fabrics/suits, rather we should be seen wearing clothing designed and made in Ghana.
The Ghanaian Journal thinks it is vital that the fashion industry communicates this message to our government officials in a strong co-ordinated and synchronised voice.
The pilot project of the 'Thank God is Friday African Print Wear' should now spread through out the week, when we have challenged our designers to new designs to fit Corporate Ghana.
This could be one the challenges to the President that is to urge his followers and fellow politicians from every political party to wear locally designed and made clothing.
Our politicians need to look at America's new first family as an exemplar of what can be done to create a surge in demand for local fashion designs.
President Obama's wife, Michelle, is supporting American fashion. Even though she has been unfairly criticised by The Black Artists Association for having yet to use a black designer and instead has worn clothing designed by Cuban and Asian-American designers, the point is that she is supporting and promoting American designers and American retailers.
On the day their father was sworn in, Obama's children Malia and Sasha, wore American retailer J Crew a company, started in 1983. According to it promotional material the company "uses the finest fabrics, craftsmen and mills from Europe and the US".
News reports said the company's website crashed due to high traffic when the American public discovered where the children's clothing had been purchased from.
Clothing researchers in America say that Mrs Obama will have a positive impact on the American apparel sector.
According to retail analysts companies such as Gap and its Banana republic chain, J.Crew, Club Monaco and Chico White House/Black Market will be some of the benefactors of her choice in clothing.
Of course it will be dependant on these retailers to take advantage of this global opportunity to sustain the interest in their fashion lines.
The central point to Mrs Obama's choice of clothing is that she is demonstrating that even the First Lady of America can look slick and elegant without having to wear couture designs with hefty price tags.
In most cases in the world of fashion and glamour there is a Machiavellian side — sweastshops. This most hated of words in the fashion industry can be linked to Mrs Obama's choice of clothing.
Over here in Ghana, we can also say the same for some politicians, like Convention Peoples Party 2008 Flagbearer, Dr. Paa Kwesi Nduom, Vice President, John Mahama, these are the names that come to mind.
prez_ind
Ghanaian Politicians need to wear the talk and emulate America's new first family they should go further and demonstrate that they will only support local designers, retailers and manufacturers that have a transparent, ethical sourcing procedure and in the case of manufacturing support those companies to meet the high demand that might come with it.