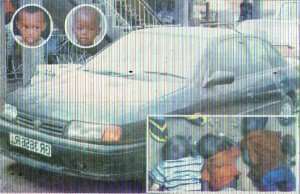 Information available to Citi News has it that doctors suspect food poisoning to be the cause of the unfortunate death of the two children in a vehicle in Alogboshie.
The doctors are currently awaiting a report from the Standards Board to determine if the foamy substance found dripping from the mouth and nostrils of one of the kids was due to food poising.
The bodies of the three boys, Gabriel Kwofie and his cousin, Edem Asimenu, and their friend Issac Annoh all aged two, were found in an abandoned Nissan Primera saloon car on Saturday February 21, 2009.
The boys had earlier been reported missing, and after six hours search by their families and neighbours, they were found dead in the abandoned car, with registration number GR 3656 R, parked in the house of one of their neighbours.
Mr. Samuel Anane, grandfather to two of the three deceased children told Citi News "we were at the mortuary today and the examination was done but there were some things according to the doctor they didn't understand so they have to send it to the Standards Board for verification and clarification."
The Division Commander of the Tesano Police Station, ACP George Duffuor corroborates the story but adds that so far their investigations have not been able to establish anything against any of the suspects.
By: citifm