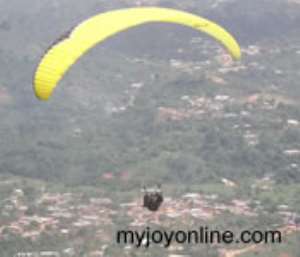 A scene during one of the flights at Atibie
Former Tourism Minister, Jake Obetsebi Lamptey has expressed regret at the cancellation of the 2009 edition of the annual Hang and Paragliding Festival.
The festival, named after journalist Ferdinand Ayim who died while running errands to institute hang and paragliding as part of festivities marking Easter by the people of Kwahu in the Eastern Region, has been held annually since its inception five years ago.
The Ministry of Tourism however, says its budget is too slim to support the celebration this year, after failing to court the support of the corporate world.
Chief Director, Mrs Brigit Katsriku, who has herself been a regular supportive participant over the years, told Joy News; "the revenue out of it doesn't meet the expenditure," and was hoping that funding could come from the private sector.
"The funding is necessary because the pilots that come from all over the world, especially those who do the tandem flying who take people along with them, we have to pay for their tickets, put them in accommodation, provide transportation for them as long as they stay in Ghana. And we thought that it is too much for us this time, especially with a reduction in the budget. It would be too much for us to do this year".
Jake disagrees
But Jake Obetsebi Lamptey sees the excuse as not sufficient, especially gauging the sort of returns a sustained activity could generate for the sector and national economy, and the level of awareness it created for domestic tourism.
"I don't think as a nation we've realized the impact that Tourism can have on generating jobs and generating wealth for our nation, so lack of funds is nothing new," he said, hoping that the cancellation is just temporarily.
The Hang and Paragliding Festival has seen a good number of people make the annual pilgrimage to the Kwawu ridges at Atibie to partake in the ever popular Kwahu Easter.
Hang and paragliding pilots have come from various parts of the world, including the USA, Britain, South Africa, France, Belgium and Togo.
Story by Isaac Yeboah