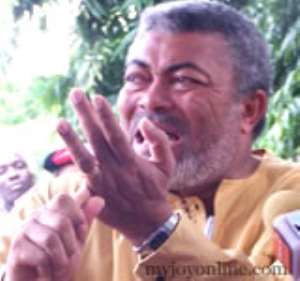 Dr. Yaw Graham, Executive Director for the Third World Network has chided ex-President Rawlings for betraying the masses whose invaluable support catapulted him to the position of the president.
According to him, the policies initiated by Mr. Rawlings were inimical to the interest of the masses and rather to the benefit of the elites.
His pronouncements come in the wake of media reports quoting him as saying Mr. Rawlings is the Greatest African Leader.
He told Joy News the report filed by the Democrat newspaper was false and the exact opposite of what he had said.
At a forum to mark the 100th Birthday of Dr. Kwame Nkrumah, Yaw Graham, contrasted the ideological differences between Dr. Nkrumah and Mr. Rawlings.
"Jerry Rawlings' political achievement was that he took the mass base of the ties that the CPP mobilized for the anti-colonial struggle through which the CPP came to power and initiated programmes to advance the masses of the this country. Jerry Rawlings took that mass base and welded to the implementation of an economic programme which benefited the elites more than the masses," he said.
"In effect President Rawlings was a leader for the elites more than the masses as he likes to portray himself," he added.
Story by Nathan Gadugah