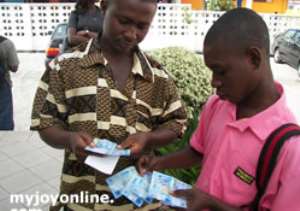 The Bank of Ghana has defended its decision to increase the prime rate from 17% to 18.5%.
The Director of Research at the Bank of Ghana, Dr Ernest Addison, said the central bank had to take the decision because of the country's soaring inflation.
The bank has been heavily criticised for the 1.5% addition to what analysts say is an already high figure.
Ghana's annual rate of inflation surged to a five-year high of 19.86% in January 2009 from 18.13% in December 2008, adding to economic pressures on the central bank.
Data from the Bank of Ghana indicates the January rate is the highest since January 2004, when annual inflation hit 26.70%.
Dr Addison in an interview with Joy FM on Thursday stressed that inflation is skyrocketing because of increased spending from government and the private sector.
He explained that, faced with these challenges, the option is to increase the prime rate which will also increase lending rates of commercial banks.
The researcher maintained that the expected increased lending rates would reduce borrowing as well as check the amount of money in circulation in the economy.
Lending rates of commercial banks currently range between 26% and 30%, and figures are expected to rise with the prime rate now at 18.5%.
Reduced borrowing is expected to minimize the high demand for goods and services, which causes inflation surges. High inflation is spurred by more money and fewer goods.
Dr Addison said the central bank's move is even more necessary because although there were sharp falls in oil prices in the last quarter of last year, some of the country's economic figures held stubbornly awful.
He cited the current budget deficit which is equivalent to 15% of gross domestic product and the country's current account deficit as issues that require immediate action.
"When you have a budget deficit of that magnitude, it implies that there is very serious aggregate demand for exchange," that require corrective measures.
"So what will be the corrective measures when you have such large imbalances, which is putting pressure on prices and on exchange rates? The answer lies in reducing the pressures in aggregate demand which will also lead to a correction of pressures on prices and on the exchange rate," he maintained.
Story by Fiifi Koomson