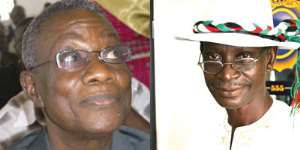 THE ASHANTI REGIONAL hierarchy of the ruling National Democratic Congress (NDC) says it would not comply with the directives instructing it to refund the GH¢100 fees it collected from applicants vying for the position of Metropolitan, Municipal and District Chief executive.
The Ashanti Regional executives said even though it welcomes the Presidential order to halt the collection of the monies from the prospective applicants, it cannot, however, reimburse the monies already collected, because it has gone into the party's coffers.
This follows what it claims was a decision reached by the National Executive Committee of the party, as a means of sourcing funds for the operations of the party at the regional level.
The Ashanti Regional Executives of the ruling party came under intense criticisms from a cross section of the public after it was reported that applicants vying for the positions of MMDCEs were being charged GH¢100 each, before being vetted.
The decision attracted a lot of public criticisms as some described it as an attempt to lower the criteria for the selection of MMDCEs since there was the likelihood that the applicants could pay their way through to get the position.
As a result of this unfortunate development, an executive order, reportedly issued by His Excellency President John Evans Atta Mills, directed the regional executives of the party to stop the act and refund monies already collected from the applicants.
But the Ashanti Regional Secretary of the party, Mr. Doe Tamakloe, says even though it would heed the call by the President to stop the collection of the GH¢100 fees, it would not reimburse those who have already paid.
He told The Chronicle in an interview that the accrued money would go into the party's consolidated fund and would be used for the day-to-day running of the affairs of the party in the region.
Meanwhile, some applicants, who pleaded anonymity, told the paper in an interview that their monies were yet to be refunded to them, following the President's directive on the issue.