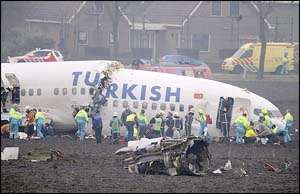 Wreckage ... the Turkish Airlines plane A Turkish passenger jet crashed as it tried to land at Amsterdam's main airport Wednesday, killing at least nine people and injuring more than 50 -- 25 seriously -- Dutch airport authorities have said.
The Turkish Airlines Boeing 737-800, which had 127 passengers and seven crew members according to the airline, broke into three pieces on impact in a field near Schiphol Airport.
The injured included both crew and passengers, said Assistant Local Mayor Michel Bezuijen.
It is too early to determine the cause of the crash, Bezuijen said.
A news photographer at the scene said she saw an unknown number of bodies lying under a white blanket, Maaike Voersma, a journalist with Dutch newspaper De Bers, told CNN.
A passenger on the plane who spoke to Turkish network DHA said he saw injured people trapped and squeezed between the seats when he walked off the plane. iReport: Send your videos, stories
The Boeing 737-800, which originated from Istanbul, Turkey, was trying to land at Schiphol when it went down at about 10:40 a.m. local time, Dutch airport officials said.
Pictures from the scene showed the plane broken in three pieces. One tear was in front of the wing, splitting the "Turkish" logo in two, and a larger tear was farther back along he fuselage.
Most of the injured were seated toward the back of the plane, which sustained the most damage, a passenger on the plane told Turkish station NTV. Many of the passengers simply walked off the plane through the cracks in the fuselage, witnesses told NTV.
Images from the scene showed medics treating passengers on the ground next to the buckled hulk of the plane, while firefighters and police examined the aircraft.  See rescuers attend the crash scene »
Emergency exits were wide open and there was no signs of fire damage to the fuselage. Also visible was one of the aircraft's engines, apparently separated from the shattered remains of one of the wings.
The plane landed in a flat farmer's field near the airport, RTL journalist Greg Crouch told CNN. He said the weather at the time was partly sunny with no wind or rain.