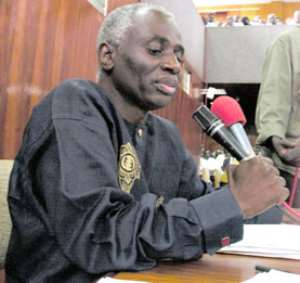 The Supreme Court (SC) on Wednesday ordered the Attorney-General's (A-G's) Department to file a statement on the Presidential Pardon of Tsatsu Tsikata, former Chief Executive of the Ghana National Petroleum Corporation.

Mr. Justice William Atuguba, who presided over a seven-member panel, said this had become necessary because the effect of the pardon on Tsikata's applications before the SC should not be glossed over, and needed to be considered by the court.

The SC gave the A-G's Department up to March 13 to file its submissions, and asked Professor Emmanuel Victor Oware Dankwa, counsel for Tsikata, to respond within two weeks.

At its sitting last month, Mr Matthew Amponsah, a Chief State Attorney, withdrew an application on the presidential pardon filed on behalf of the A-G's office.

At its sitting on Wednesday, the SC was to give its ruling on two applications brought before it by Tsikata for extension of time, and to also file additional evidence, but due to this new development, it deferred the ruling, and adjourned proceedings to April 7.
On June 18 last year, an Accra Fast Track Court, presided over by Mrs. Justice Henrietta Abban, trying Tsatsu on charges of wilfully causing financial loss to the State, convicted him and accordingly sentenced him to five years' imprisonment.

While serving his jail term at the Nsawam Medium Security Prisons, Tsikata fell sick and was admitted at the Cadiothoracic Centre of the Korle Bu Teaching Hospital.

In a letter on his sick bed at Korle Bu, Tsikata rejected an unconditional pardon from former President John Agyekum Kufuor, saying: "I am rejecting the pardon of former President Kufuor because it was not exercised in good faith. I have never sought, and I do not need your pardon of mercy. Justice is my quest, and I will pursue this quest in accordance with the Constitution and the laws of Ghana."

Thereafter, the Court of Appeal ordered the restoration of an application for bail for Tsatsu pending his appeal against the June 18 conviction by the Fast Track Court.

The three-member panel, presided over by Mrs. Justice Mariama Owusu with Mr Justice P. K. Gyaesaayor and Mr Justice Kobina Acquaye, ruled that it was wrong for the trial judge to dismiss Tsikata's bail application.
GNA