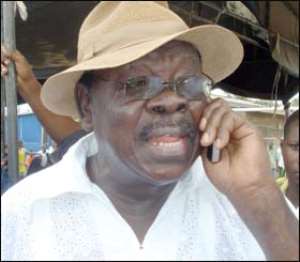 Sheik I.C. Quaye With barely a few weeks left for the Supreme Court to give its verdict on the Asutifi South electoral dispute, another legal battle challenging the victory of Sheik I.C. Quaye, the (NPP) Member of Parliament for Ayawaso Central Constituency, has begun at an Accra Fast Track High Court.
Dr. Kwasi Ofei Agyeman, the National Democratic Congress (NDC) parliamentary candidate who contested the December 2008 elections with Hon. Quaye, has taken the Electoral Commission (EC) and the Ayawaso Central MP to court, asking the court to nullify the election results due to substantial electoral malpractices.
In the court presided over by Justice Mrs. A. Norvisi, the EC which entered conditional appearance on February 6, filed a motion on notice to strike out Dr. Agyeman's   petition on the basis that as the petitioner respondent, he had failed to apply to the court regarding how much should be imposed on the security for costs pursuant to Section 18 (2) of PNDC Law 284.
Counsel for the petitioner, Mr. Kwabla Senanu, vehemently opposed the motion on grounds that the entry of conditional appearance filed by the EC was filed out of time.
In addition he said under Order 9 Rule 6 (2), the EC was not allowed to file any other processes except by the leave of the court since the entry of conditional appearance was out of time.
Mr. Senanu also told the court that his client deposited an amount of old ¢20,000 on the January 23 at the High Court within the statutory time, so their petition before the court was therefore valid.
The case has been adjourned to March 12 for further hearing.
Dr.Agyeman the plaintiff in his statement of case, wants the court to nullify or alternatively scrutinize the electoral materials and documents and declare the appropriate winner in the constituency.
Furthermore the petitioner wants the court to place a perpetual injunction restraining the second defendant Hon.Quaye from holding himself as the MP for the area.
By Fidelia Achaea