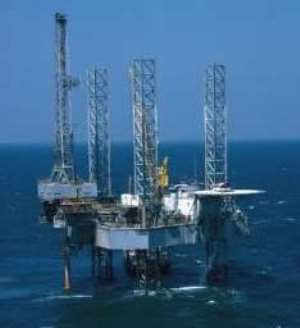 The Okyenhene Osagyefuo Amoatia Ofori Panin has called for transparency and the establishment of proper mechanisms in the development of the oil industry to ensure that future generations benefited from it.
Delivering the keynote address at the 12th Annual Banking Conference in Accra, Osagyefuo Amoatia Ofori Panin said the discovery of oil alone was not a guarantee to it fostering development if there was no proper management of the resource.
He said it was important to draw lessons from the failure to make meaningful developments out of the country's mineral and other natural resources in the past and make significant changes towards guaranteeing that the oil find did not go the same path.
Since the discovery of oil, public expectation has been high about the number of jobs that will be created and its impact on the economy. The "Jubilee" field has proven reserves of more than 600 million barrels of oil.
The Chartered Institute of Banking Ghana instituted the annual lectures to address contending issues within the financial services sector as well as informing the public on banking practices, policies and how they impact on the economy.
This year's conference is on the theme: "Opportunities and Challenges for the Financial Service Sector in Ghana's Emerging Oil and Gas Industry."
Osagyefuo Amotia underscored the urgent need of active local participation and management of the oil resources, saying that, if left in the hands of foreign companies the benefits that would accrue to the country might be insignificant.
In this direction, he called for specific institutional framework spelling out detail local content procedures and how Ghanaians could participate and benefit from the oil discovery.
There is also the need to get right the legal framework and address the weak environmental management and monitoring guidelines to ensure that Ghanaians were not short changed in the process of oil production. Osagyefuo Amotia emphasized the need for government to learn from oil extracting countries to avoid mistakes they made during their initial extraction periods.
He called for the training of local experts by stakeholder institutions to develop the human capacity to meet the challenges of the oil industry.
Besides, the country must guide against excessive expectations and possible over-reliance on the oil to the neglect of other equally good sectors of the economy.
Mr Moses Boateng, Managing Director, Ghana National Petroleum Corporation, said there are plans for the construction of an 800 million dollar gas facility to ensure the exploitation of gas from the Jubilee field for generation of electricity.
He said banks could participate in that, through granting long-term loans for the project to be completed on time for the production of oil in 2010.
Mr Tony Oteng-Gyasi, President of AGI, said the banks needed to increase their capital base to enable them to participate in the oil industry.