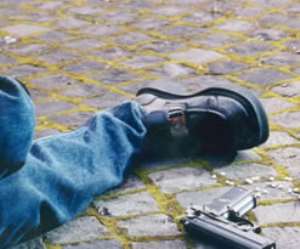 A young man was shot dead in an execution-style killing as he walked along a suburban street.
Larry Safie, 25, who came to London from Ghana for a better life, was killed by a single bullet, believed to be to the back of the head, Sunday afternoon, February 22, 2009.
The murder shattered the calm of an East Dulwich neighbourhood popular with young families and unused to gangland violence.
The dead man's father spoke of his shock and fear - and told how his family is "scared stiff" that the killer is still at large.
The murder followed a wave of violence that swept the capital over the weekend. Three other people were killed in knife and arson attacks and there were shooting sprees in Hackney and Greenwich.
Mr Safie died as he walked down Barry Road. As he passed a former Victorian girls' school, now converted into flats, his killer approached from behind and shot him once, before fleeing.
An ambulance was called at about 1.15pm but Mr Safie was pronounced dead at the scene.
At one stage, the victim's legs were visible, sticking out from beneath a sheet, before forensic science officers erected a tent over the body and cordoned off Barry Road.
A post-mortem examination is expected to take place today at Greenwich mortuary where formal identification will take place.
Mr Safie's father, Kofi Osei-Safie, a 59-year-old postman, said: "Larry was walking along and somebody shot him from behind and then they escaped by running down a side street. Our whole family is in shock and it is very frightening.
"I last saw Larry on Friday and he was all right. Then I saw on the television that a man had been shot. Larry has two young twin sisters and now everyone is scared stiff that the person who killed him is still out there."
The victim, who lived in a road nearby, was born in Ghana, which he left aged two, and was mourning the recent death of his grandmother.
He was studying to retake his GCSEs and his father hoped he would take up an apprenticeship to become a plumber. Police believe one or more suspects escaped on foot, although witnesses reported a car speeding from the scene. Shortly afterwards, residents saw armed officers and a dog unit search the area.
No one has been arrested and a murder investigation was launched by Operation Trident, which tackles gun crime in the black community.
Elizabeth Devenish, 72, whose flat overlooks the crime scene, said: "Everything was quiet and I didn't hear any shots, which is unusual because you hear everything in the street.
"Then about half a dozen police cars and a vans appeared and a bendy bus was made to stop in the middle of the road."
Darren McBride, 33, a project manager, said: "At Sunday lunchtime the road is normally busy with young families with pushchairs going to Peckham Rye or the pub. The road definitely feels rougher than when we moved in four years ago."
Mark Neuman, a 60-year-old human rights campaigner, said: "It was a terrible shock to come out of my house to see my neighbours in their front garden with police carrying weapons. It is very unusual for this to happen around here and everyone is shocked and saddened." The neighbourhood around Barry Road is popular with young professionals and large homes can fetch up to £1million. But Tom Greene, 80, a former bricklayer, said: "The area has become really terrible. Every night you can hear shouting and bawling with gangs of up to six shouting in street slang. You're constantly looking over your shoulder when you're out."
A 14-year-old girl added: "We're quite near Peckham so you do get a lot of gangs coming here, like the Young Peckham Boys, and we know plenty of people who don't think twice about carrying a knife or gun, even to school."
Source: Evening Standard