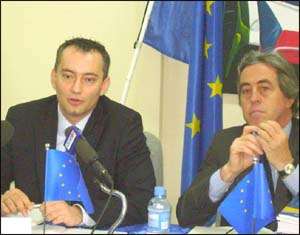 EU Observers A FINAL REPORT presented by the European Union Election Observation Mission (EU EOM) on Ghana's 2008 presidential and parliamentary elections has outlined numerous ways by which government, the Electoral Commission and other stakeholders can improve the electoral process in the near future.
Among these recommendations to be imposed by the Electoral Commission (EC) is a political parties' code of conduct, which will bind and penalize persons for its violation.
Greater clarity and legal certainty in terms of re-counting and requests for re-aggregation of results must be provided for certain areas in the election process.
Furthermore, it suggests that the posting and displaying of results outside of the polling centres should be introduced for public's inspection. This process, it maintained, should take place also at all levels of the aggregation process to ensure maximum transparency.
"Greater safeguards need to be introduced to guarantee the accuracy of the aggregation process. Staff should receive advanced training in handling the handover of documents and data entry. The environment should also be more regulated to ensure crowd control," the EU final report said.
It was also of the view that a maximum ceiling should be placed on the number of registered voters at a particular polling station to make sure that regular voting patterns with less crowding are practiced.
Touching on participation of women and minorities, it noted that "a stronger position for women and minorities in parliament, governance and political parties should be encouraged through affirmative action within the political parties themselves", stressing that the EC must consider introducing quotas in its recruitment policy for women.
The Observer team continued that the Inter Party Advisory Committee (IPAC) meetings should be developed as a more regular platform of dialogue between the EC and the political parties with the introduction of formal rules and published minutes.
Party agents, it advocated ought to receive more training on their roles during elections while adequate codes of conducts are introduced.
It stated that provisions for special, transfer and proxy voting should be more adequately managed to curb electoral malpractices, calling on the EC to be more pro-active in following up any allegations of irregularities in the election process.
However, it pointed out that the system for nominating High Courts throughout the country to deal with election related petitions should be established in law to guarantee an expeditious response to disputes.
Meanwhile, the Chief Observer of EU EOM, Nickolay Mladenov expressed delight in presenting the report of the just ended general elections in Ghana.
Also a Member of the European Parliament, Mladenov hoped that the donor communities would continue to support elections in this part of the world. He urged the media to work closely with political parties to further improve governance in the country.
By Nathaniel Y.Yankson