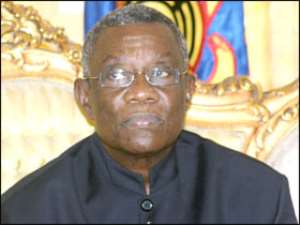 President Mills THE NATIONAL leadership and members of the Nigeria Union of Traders Association, Ghana (NUTAG), has added its voice to the series of organizations in congratulating President John Mills and his government on the assumption of power.
NUTAG also hailed Vice President John Mahama and other Members of Parliament on what it described as 'their meritorious elections to steer the affairs of Ghana'.
The congratulatory message, which was contained in a press release signed by the Secretary General of the association, Comrade Jasper Emenike in Accra on Monday, asked the president not to let the nation down.
"Your Excellency, we are convinced that Ghanaians have expressed confidence in your leadership by voting for you and you cannot afford to let them down".
NUTAG expressed its hope in the new administration in implementing the Economic Community of West African States (ECOWAS) protocol, saying they are ready to support where it is necessary.
"It is also our hope that your esteemed office will contribute towards the maintenance of peace and unity in our ECOWAS sub-region and fullest implementations of its protocols. While reiterating our readiness in supporting and encouraging your government, we wish you and your team God's wisdom, guidance and direction towards discharging your duties".
In a related development, the Nigerian Traders also congratulated Ms Hannah Tetteh, Minister of Trade and Industries, on her appointment and stressed that the union would be committed to an excellent relationship with the ministry.
"Madam, the impact and significance of your ministerial office cannot be over-emphasized, especially as it relates directly to the long economic ties and synergies between Nigeria and Ghana. It is to this resolve that our Union remains practically committed that this relationship excels", it concluded.
NUTAG has a membership of over 1,000, most of them dealing in electronics, vehicle spare parts, second-hand clothing and cosmetics.
By Bennett Akuaku