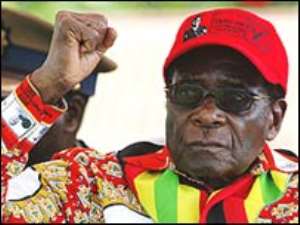 Dozens of white-owned farms in Zimbabwe have reportedly been invaded by supporters of President Robert Mugabe this month as the long-time opposition joined a national unity government.
Some suspect this is part of an attempt by hardline Mugabe supporters to scuttle the agreement. Catherine Meredith, 40, tells the BBC what happened to her farm.
"On February 6, a crowd of 30 men showed up on our land. Most of them were young, many of them wearing [President Mugabe's] Zanu-PF T-shirts.
I was away in South Africa visiting my son at university but my husband had stayed behind. We had a feeling that something could happen so we decided one of us should stay.
They told my husband that our farm was now being taken over by a local businessman. Their manner was boastful and arrogant.
When I came back from South Africa a few days later, I was advised by the French embassy not to return to the farm (I'm originally from France).
This is because in 2008 there were similar invasions of white-owned farms and it got quite violent. Back then, there were people threatening to kill us and we had to leave our farm for some time.
This time, there was less violence, but I was in touch with my staff on the mobile from Harare. They told me the invaders had been menacing towards them and stopped them from working.
This made my staff very angry, but they were under strict instructions from me not to lose it.
'Rent-a-crowd'
After a week, my husband and I returned to the farm. In the meantime we had obtained a court order in Harare saying the squatters had no right to our land.
The crowd was still there. The atmosphere was very tense, very unpleasant.
We calmly handed the eviction papers to the leader of the pack. We want to follow the law by the letter. The local sheriff was with us. He explained to them that they had no right to be there.
They kept saying they hadn't been violent. But that isn't true. Last week they seized a member of my staff and pushed his face to the ground to get him to hand over the keys to our garden gate.
Then, 17 of them broke into our garden. Luckily, the police for once stuck up for us and prevented them from breaking into our house.
These squatters are arbitrary people who have been paid to squat on our farm. We call them 'rent-a-crowd'.
But generally the local police haven't been very helpful. Despite the eviction order, they haven't tried to force the squatters off our land. They claim they haven't got the manpower to help us.
'Change is coming'
Financially this has cost us a great deal. The man who ordered the crowd to seize our land has allowed his cattle to walk through our maize fields. This has partly destroyed our crops.
Emotionally, it's absolutely draining. You think you are protected by the law and then this happens.
All of our children are grown up and have moved away and thank goodness for that. Otherwise we would have to worry about their safety as well.
On the surface, this invasion seems more peaceful than the one last year. But there are still about 12 of them on our land and you never know what they are capable of.
They drink and smoke pot quite a bit, and it worries me.
I have lived here since I was 23. Zimbabwe is my home now, I wouldn't know where else to go.
My husband was born in this area and he speaks Shona. We belong here.
We are not giving up. We strongly believe that change is coming to Zimbabwe.
My feeling is that we are very near the end of these troubles. We have a new prime minister now.
I'm 100% confident that in five years' time, I'll still be living on this farm.