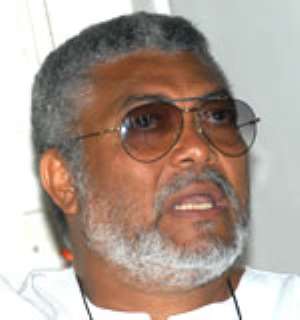 Dr. Yao Graham, Coordinator of the Third World Network, a non-governmental organisation (NGO), on Tuesday advised people who consistently and continuously demonized former President Jerry John Rawlings, to desist from the act.
He said the former President espoused the ideals of Ghana's first President, Dr. Kwame Nkrumah, who was admired worldwide for his ideology and achievements.
Dr Graham was speaking at a forum, organised by the Socialist Forum of Ghana, to mark the 100th birthday of Dr. Nkrumah and the 43rd year of his overthrow, in Accra.
The Coordinator of the NGO said attempts were being made by some people, who refused to accept well-known facts, to rewrite the country's history, which according to him might mislead the younger generation.
He said the decision by President John Evans Atta Mills to institute the founders' day to be observed on the birthday of Dr. Nkrumah was commendable.
Dr, Graham called on Nkrumaists to come out with innovations that could make the celebration of such a day memorable than just the erecting of statutes in remembrance of the first President.
Professor Nii Noi Dowuona of the Department of Agriculture, University of Ghana, Legon, recounted the life history of Dr. Nkrumah and his struggle to liberate Ghana as well as the entire African continent.
He said the country would not have been where it was but for the visionary leadership of the first President.