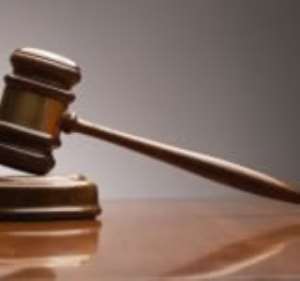 Two men have appeared before the Asamankese circuit court charged with intentionally and unlawfully causing harm and for being in possession of dried seeds, suspected to be that of Indian Hemp (wee).
Kwaku Awuah, 26 and Kwabena Prosper, 19, pleaded not guilty and were remanded in prison custody to re-appear on March 4.
Detective Police Chief Inspector X.C. Okorey, prosecuting, told the court that on December 30, last year, the complainant Jacob Kwaku and David Nartey, a witness in the case, while walking on a bush path were stopped by the accused persons.
The accused persons questioned the complainant and the witness why they were using the path, which they refused to clear, when it was bushy.
He said that confrontation later generated argument between the two sides and in the process Prosper who was smoking a substance suspected to be Indian hemp puffed the smoke into the face of Jacob Kwaku.
The prosecutor said Prosper's conduct did not go down well with Jacob Kwaku, which fueled the argument between the two sides leading to a fight.
He said in the course of the fight, Prosper picked a stone and hit Jacob Kwaku on the left cheek and he bled profusely.
Awuah, later joined the fight in support of Prosper and leading to the slashing of Jacob Kwaku with a machete.
The witness, sensing danger sought the help of nearby people and arrested the accused persons.
They then searched and found in their pockets quantity of dried leaves suspected to be Indian hemp and sent them to the police together with the machete used by Awuah in slashing Jacob Kwaku.
The prosecutor said the dried seeds would be sent to the forensic laboratory for analysis.