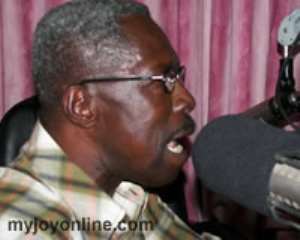 Dr Tony Aidoo, leading member of the NDC
A former Deputy Defence Minister Dr Tony Aidoo says Ghanaians "will consolidate their democracy better if we institute disciplinary measures against non-compliance" with filth disposal regulations.
Dr Aidoo said a sure way to stop indiscriminate littering is the enforcement of the bye-laws.
The former minister who has mostly been an ardent critic of the New Patriotic Party (NPP) this time directed his venom at people who litter the environment.
"Where you observe that there is a penchant for people to disobey the law or disobey basic rules then education is not just a matter of rhetoric or exhortation.
"Education should be punitive, hit the person hard where it hurts, inside his or her pocket; he litters, he pays," he emphasised.
Dr Aidoo's proposal is that "shopkeepers whose frontals are filthy with stinking gutters, you fine them; if anybody is passing by and he drops a litter then you will responsibly tell the person to pick up the litter."
He said failure for city authorities to punish people who flout the rules makes offenders feel little sense of civic responsibility to do the right thing.
He made an allusion to cities such as Geneva and Paris as places where "the law works", that "the environment is so clean that you wouldn't even dare."
Ghana has been described as one of the filthiest countries on the continent with its capital Accra, the worst in the country.
Although several efforts have gone into ridding the city of the tonnes of filth in the street, very little seems to have been achieved, calling for renewed government commitment.
Story by Fiifi Koomson