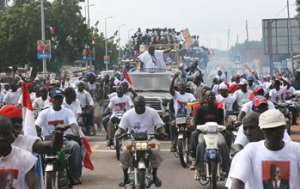 Tamale is always in the news for all the wrong reasons. I cannot recall the last time Ghana's northern regional capital and indeed the rest of the region made news for any right reasons. It is always someone slashing another with a machete, a house burnt down or clashes between youth groups. Indiscipline and gun violence has turned parts of Northern Ghana into some danger zone. The north of our country, which once was the bread basket of our nation, has now gained notoriety for violence. The region is becoming a place where some residents feel scores have to be settled only by violence. And this is violence between people of the same country and extraction. The latest is the reported burning of seven house and three vehicles.
I was in the company of a friend from the National Security Office (an elite group of the intelligence community of Ghana) and two colleagues from a local radio station in 2007. I was as usual on a flying visit. I love those trips; they are brief but nostalgic and leave me feeling sentimental and humbled. I enjoy spending at least seven days every six months visiting the folks in the 'country'. At this particular trip, the local club Real Tamale United, RTU, was playing Obuasi Goldfields at the mysterious Kaladan Park. The park is like a lion's den, visiting teams hardly won in Tamale; it is the place we took turn in whipping the top clubs in the FA premier league. I was just recovering from a surgery on my eyes but was not going to miss the chance to see 'my RTU' whip the miners
I can't remember what time of year it was when I visited in 2007, but the weather was not traditionally blistering. It was such a lovely day in Tamale as I left home filled with pride and excitement to be going back to Kaladan. I had not been at the park since I broke my leg in a training session in 1997. It was a chance for me to pay and watch the team I had dreamt about playing for as a child. My friend at the National Security wouldn't understand why I would pay when I could easily enter by flashing my Identity Card. I told him how the team needed every cedi it could scrape from gate proceeds.
The game started quite well until everyone United fan started feeling restless after a 45 minutes goal drought. My sense of pride and joy gave way to disappointment and anger. Things were not going well for United and it got nastier. The game was far from being fair and my good manners about fair play wouldn't have any of that. A spectator had left his seat, stepped onto the field and was distracting and intimidating an assistant referee. He was telling her – "you must understand we are going to beat you if we didn't win." This despicable fan followed the assistant referee from touchline to touching, shouting obscenities into her ear. It was so outrageous I got off my seat. As a former colt footballer, I had seen my share of unfair play and intimidation of officials, but nothing compared to what I was seeing in the place of my birth, orchestrated by a dim witted fan of United. This was in the full glare of everybody; security officials, the media, the regional minister and a couple of members of parliament from the north.
My friends held me back into my seat and begged me to keep quiet if I didn't want go home with a dislocated jaw. My friends know of my 'bad boy' credentials as blue belt karate, but said I wouldn't stand a chance, this was Tamale and I may be up against a whole gang. I couldn't believe why everyone sat back and watched some vagrant disrupt a premier league match (I would later learn from a soccer coach pal that it was the nature of our local league in some of the league centres). What I had witnessed was a normal thing at the now defunct Kaladan Park and an epitome of the lawlessness that had consumed the region of my birth. Our sons are at war with each other; let us not pretend as if that is not a big deal.
There are reports of a dreadful stockpiling of sophisticated weapons in the region. What these guns are for, only Jah knows. With the recent spate of violence and burning down of houses, our people have certainly not learnt much from March 2002. The events of 27th March 2002 should never have happened if our elders had any sense of pride and responsibility. It was when the King of Dagbon, Naa Yakubu Andani II and his coterie were assassinated in broad day light. Everybody knew it was happening, at least I SENSED something was amiss. Again, I was in Tamale and was trying to reach a friend on the telephone at the District Assembly in Yendi, the seat of the Dagbon King. No landline into Yendi worked for more than 24hours, they were all disconnected and that couldn't have been an accident. We slacked and watched not only a King and his elders shot and hacked to death, but allowed more than 500 years of the heritage and spirit of the Dagbon people be raised to the ground. The heritage our founding ancestors fought and won for us was obliterated thanks to the barbarity of some of our educated leaders and elders.
At lot of resources are being spent on 'peace keeping' in the north. These are funds that could have gone into education or adding a gallon or two of good drinking water to the taps of the residents of the metropolis who hardly get any flowing water. Poverty is so widespread in the region and there seems to be a snail pace attempt to uplift the people. People still live in mud houses and have no access to clean water and toilet facilities.
I am getting exasperated by the perennial lawlessness in the Northern Region. Part of the problem is the social marginalisation. There are always problems anywhere there's social dislocation. Whether Govan in Glasgow or East London; from Spanish Town in Jamaica to Brownsville in New York, marginalised residents would find themselves in crimes and violence. These are people who are largely made what they are because of government policies. Many of these residents have no chance in education. The schools their children attend are under resourced and lack top ranking tutors. As a result of Poor quality tuition, pupils from these areas fail their basic school exams and then drop out.
There are pockets of chieftaincy conflicts which to some extent have been exacerbated by complicity from our politicians. A section of the educated elite in the region must bear the heavy cross of responsibility for the mess we all find ourselves in. These mandarins have not done themselves and our country any good. They know education is the key to social mobility and yet do very little to bridge the difference between the haves and the have not. The words of heroes like Malcolm X must not be relegated to the dustbin of history. The words of our heroes must still drive and be our guiding principle. As Malcolm said; "education is our passport to the future, for tomorrow belongs to the people who prepare for it today."
We are not attempting to bequeath the children of the Northern Region anything and we are doomed if we fail to educate them. The handful of no-good hoodlums must be quickly called to order, first by the elders of their respective communities and a heavy handedness by the security agencies. They must be demobilised and relocated into our society. We have to do this with all our strength before the situation becomes a national disaster and consumes us all. The approach has to be carrot and stick.
The new government must quickly fulfil its promise to bring the perpetrators of the Dagbon assassinations to book. Our once bread basket is now a ticking time bomb and the explosion would be nothing like we have seen before if we all don't stop the stock piling of weapons and call our youths to order. It is a difficult task but not insurmountable.
CREDIT: Ras Mubarak.
[email protected]