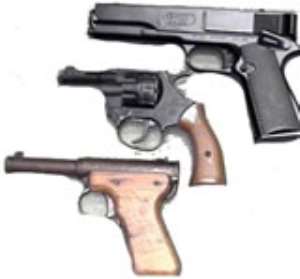 A security analyst Dr. Emmanuel Annin, has raised doubts about the approach adopted by the Northern Regional Minister to retrieve illegal arms from residents in Tamale.
Mr. Stephen Sumani Nanyina, after a Regional Security Council meeting, Monday, announced a voluntary return of illegal arms, failing which offenders will be prosecuted.
The move is to curtail the culture of violence which has bedevilled the people of Tamale in recent years and which has needlessly claimed lives and properties.
Though security analysts have pointed the illegal possession of arms as the major problem in the region, efforts to retrieving those arms have been thorny.
Dr. Annin told Joy News on Tuesday the approach adopted by the Minister has been tested severally on previous occasions and will not work.
Describing the move as "nothing innovative," the analyst reckoned the minister must rather find out the sources of those arms.
"How did military-style guns get into the hands of party supporters? It is crucial and important that those people who have accepted that their supporters have these guns answer these questions and should be prosecuted to send a strong signal to others," he said.
Even if the residents comply with the minister's ultimatum, something he doubts, Dr. Annin said it would only lead to the "catching of small boys" leaving the established culprits.
He advocated for an inventory to be taken of all arms both in military and private installations and a review of licenses issued to private arms importers.
He charged the Ministry of Interior to sharpen its supervisory role on the private firms owning these arms, as some of them he suspects, are part of the cause of the proliferation of arms in private hands.
Story by Nathan Gadugah