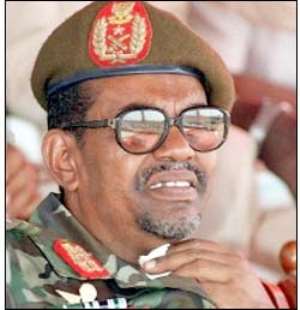 President Omar al-Bashir The International Criminal Court (ICC) has said it will rule on 4 March whether to issue an arrest warrant for Sudanese President Omar al-Bashir.
The judges will decide whether Mr Bashir is to face charges of war crimes, genocide and crimes against humanity committed in Darfur province.
Mr Bashir is the most senior figure pursued by the court in The Hague since it was set up in 2002.
The president rejects the charges and refuses to deal with the ICC.
The chief prosecutor at the court, Luis Moreno-Ocampo, requested an international arrest warrant last July, making Mr Bashir the first head of state accused of war crimes by an international court while in office.
It is alleged he masterminded a plan to kill three ethnic groups in Darfur.Other allegations include responsibility for murder, extermination, deportation, torture and rape.
Up to 300,000 people have died in Darfur in a six-year conflict between the government and rebels, while more than two million people have fled their homes, the UN estimates.
Meanwhile Mr Bashir on Monday returned from a visit to Cairo, where he held talks with his Egyptian counterpart Hosni Mubarak.
Egypt warned that an ICC arrest warrant would lead to dangerous repercussions in Darfur and the rest of the country.
It called for a decision to be deferred for at least a year.
At the time of the arrest warrant request last year, Sudan's Chinese allies, as well as the opposition Umma party, warned that any indictment could have a destabilising effect on a fragile region.
Sudan, which does not recognise the ICC, has refused to hand over two other suspects, Ahmed Haroun, Minister for Humanitarian Affairs, and the Janjaweed militia leader Ali Abdul Rahman.
BBC